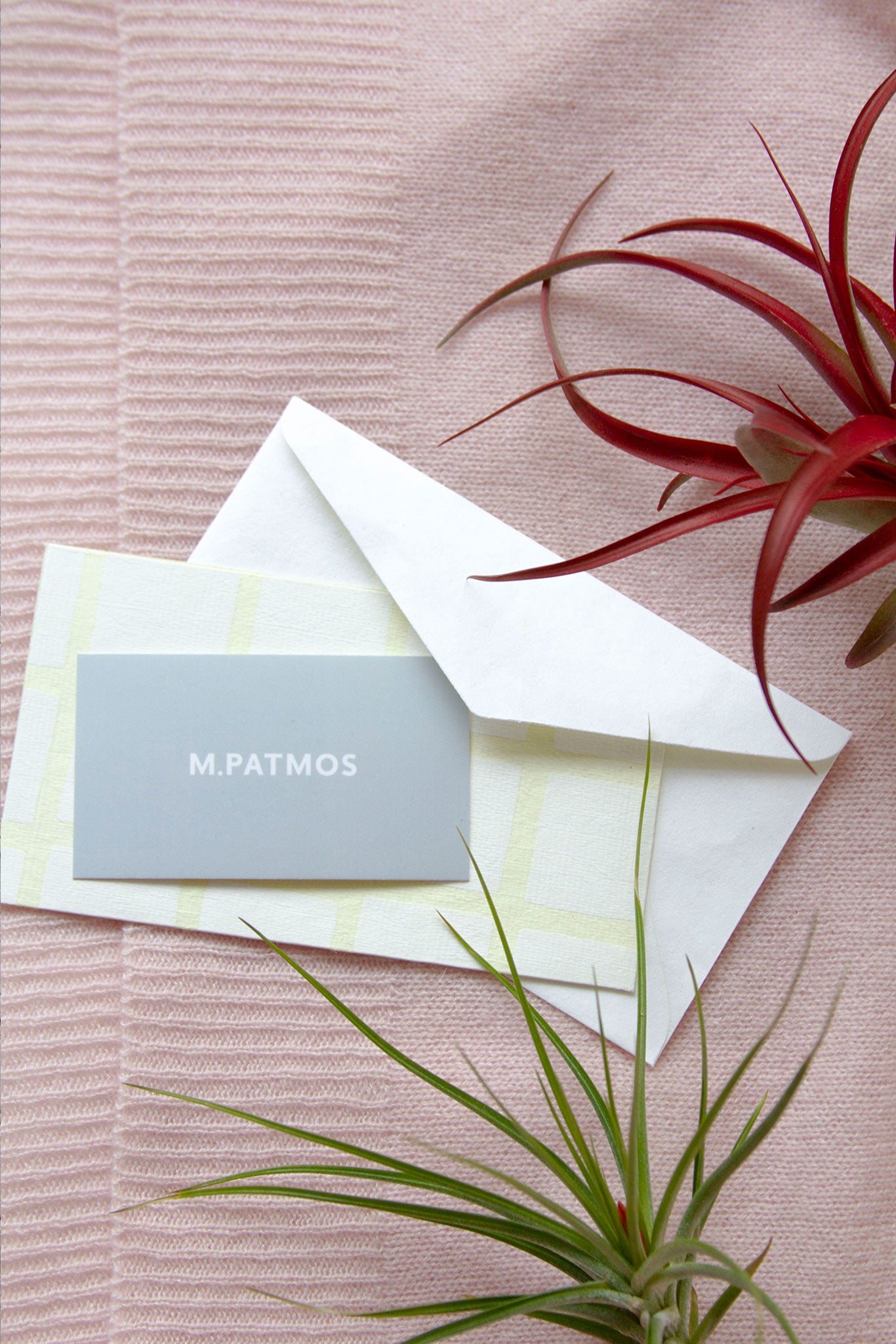 Gift Card
Can't decide what to get your loved one for their birthday / anniversary / graduation / or a holiday?  An M.PATMOS gift card will set you in the right direction. It's an instant, thoughtful beginning to an amazing, sustainable, and stylish wardrobe addition! Gift cards can be purchased in any increment and can be used both instore and online.
If you purchase instore, it will be enclosed in a beautiful Hataguchi or Hartland Brooklyn card. If purchased online, you can choose whether to receive it the eco-friendly and speedy digital way or in the mail - just let us know by leaving a "note" on your order.
NOT SURE WHAT SIZE TO GET?
Here are our fit standards according to your measurements by inches. If you have any additional questions, we'd love to help!
Contact us at customerservice@mpatmos.com.
---
{"id":1461591867434,"title":"Gift Card","handle":"gift-card","description":"\u003cp\u003eCan't decide what to get your loved one for their birthday \/ anniversary \/ graduation \/ or a holiday?  An M.PATMOS gift card will set you in the right direction. It's an instant, thoughtful beginning to an amazing, sustainable, and stylish wardrobe addition! Gift cards can be purchased in any increment and can be used both instore and online.\u003c\/p\u003e\n\u003cp\u003eIf you purchase instore, it will be enclosed in a beautiful Hataguchi or Hartland Brooklyn card. If purchased online, you can choose whether to receive it the eco-friendly and speedy digital way or in the mail - just let us know by leaving a \"note\" on your order.\u003c\/p\u003e\n\u003cp\u003e \u003c\/p\u003e","published_at":"2018-08-06T21:46:23-04:00","created_at":"2018-05-09T19:04:17-04:00","vendor":"M.PATMOS","type":"Accessories","tags":["FF2020","live","mother","mpatmos","vday"],"price":2500,"price_min":2500,"price_max":100000,"available":true,"price_varies":true,"compare_at_price":null,"compare_at_price_min":0,"compare_at_price_max":0,"compare_at_price_varies":false,"variants":[{"id":43889715708120,"title":"$25","option1":"$25","option2":null,"option3":null,"sku":null,"requires_shipping":false,"taxable":false,"featured_image":null,"available":true,"name":"Gift Card - $25","public_title":"$25","options":["$25"],"price":2500,"weight":0,"compare_at_price":null,"inventory_quantity":0,"inventory_management":null,"inventory_policy":"continue","barcode":"27188586","requires_selling_plan":false,"selling_plan_allocations":[]},{"id":43889715740888,"title":"$50","option1":"$50","option2":null,"option3":null,"sku":null,"requires_shipping":false,"taxable":false,"featured_image":null,"available":true,"name":"Gift Card - $50","public_title":"$50","options":["$50"],"price":5000,"weight":0,"compare_at_price":null,"inventory_quantity":0,"inventory_management":null,"inventory_policy":"continue","barcode":"27188586","requires_selling_plan":false,"selling_plan_allocations":[]},{"id":43889715773656,"title":"$75","option1":"$75","option2":null,"option3":null,"sku":null,"requires_shipping":false,"taxable":false,"featured_image":null,"available":true,"name":"Gift Card - $75","public_title":"$75","options":["$75"],"price":7500,"weight":0,"compare_at_price":null,"inventory_quantity":0,"inventory_management":null,"inventory_policy":"continue","barcode":"27188586","requires_selling_plan":false,"selling_plan_allocations":[]},{"id":43889715806424,"title":"$100","option1":"$100","option2":null,"option3":null,"sku":null,"requires_shipping":false,"taxable":false,"featured_image":null,"available":true,"name":"Gift Card - $100","public_title":"$100","options":["$100"],"price":10000,"weight":0,"compare_at_price":null,"inventory_quantity":0,"inventory_management":null,"inventory_policy":"continue","barcode":"27188586","requires_selling_plan":false,"selling_plan_allocations":[]},{"id":43889715839192,"title":"$125","option1":"$125","option2":null,"option3":null,"sku":null,"requires_shipping":false,"taxable":false,"featured_image":null,"available":true,"name":"Gift Card - $125","public_title":"$125","options":["$125"],"price":12500,"weight":0,"compare_at_price":null,"inventory_quantity":0,"inventory_management":null,"inventory_policy":"continue","barcode":"27188586","requires_selling_plan":false,"selling_plan_allocations":[]},{"id":43889715871960,"title":"$150","option1":"$150","option2":null,"option3":null,"sku":null,"requires_shipping":false,"taxable":false,"featured_image":null,"available":true,"name":"Gift Card - $150","public_title":"$150","options":["$150"],"price":15000,"weight":0,"compare_at_price":null,"inventory_quantity":0,"inventory_management":null,"inventory_policy":"continue","barcode":"27188586","requires_selling_plan":false,"selling_plan_allocations":[]},{"id":43889715904728,"title":"$175","option1":"$175","option2":null,"option3":null,"sku":null,"requires_shipping":false,"taxable":false,"featured_image":null,"available":true,"name":"Gift Card - $175","public_title":"$175","options":["$175"],"price":17500,"weight":0,"compare_at_price":null,"inventory_quantity":0,"inventory_management":null,"inventory_policy":"continue","barcode":"27188586","requires_selling_plan":false,"selling_plan_allocations":[]},{"id":43889715937496,"title":"$200","option1":"$200","option2":null,"option3":null,"sku":null,"requires_shipping":false,"taxable":false,"featured_image":null,"available":true,"name":"Gift Card - $200","public_title":"$200","options":["$200"],"price":20000,"weight":0,"compare_at_price":null,"inventory_quantity":-1,"inventory_management":null,"inventory_policy":"continue","barcode":"27188586","requires_selling_plan":false,"selling_plan_allocations":[]},{"id":43889715970264,"title":"$250","option1":"$250","option2":null,"option3":null,"sku":null,"requires_shipping":false,"taxable":false,"featured_image":null,"available":true,"name":"Gift Card - $250","public_title":"$250","options":["$250"],"price":25000,"weight":0,"compare_at_price":null,"inventory_quantity":0,"inventory_management":null,"inventory_policy":"continue","barcode":"27188586","requires_selling_plan":false,"selling_plan_allocations":[]},{"id":43889716003032,"title":"$300","option1":"$300","option2":null,"option3":null,"sku":null,"requires_shipping":false,"taxable":false,"featured_image":null,"available":true,"name":"Gift Card - $300","public_title":"$300","options":["$300"],"price":30000,"weight":0,"compare_at_price":null,"inventory_quantity":0,"inventory_management":null,"inventory_policy":"continue","barcode":"27188586","requires_selling_plan":false,"selling_plan_allocations":[]},{"id":43889716035800,"title":"$350","option1":"$350","option2":null,"option3":null,"sku":null,"requires_shipping":false,"taxable":false,"featured_image":null,"available":true,"name":"Gift Card - $350","public_title":"$350","options":["$350"],"price":35000,"weight":0,"compare_at_price":null,"inventory_quantity":0,"inventory_management":null,"inventory_policy":"continue","barcode":"27188586","requires_selling_plan":false,"selling_plan_allocations":[]},{"id":43889716068568,"title":"$400","option1":"$400","option2":null,"option3":null,"sku":null,"requires_shipping":false,"taxable":false,"featured_image":null,"available":true,"name":"Gift Card - $400","public_title":"$400","options":["$400"],"price":40000,"weight":0,"compare_at_price":null,"inventory_quantity":0,"inventory_management":null,"inventory_policy":"continue","barcode":"27188586","requires_selling_plan":false,"selling_plan_allocations":[]},{"id":43889716101336,"title":"$450","option1":"$450","option2":null,"option3":null,"sku":null,"requires_shipping":false,"taxable":false,"featured_image":null,"available":true,"name":"Gift Card - $450","public_title":"$450","options":["$450"],"price":45000,"weight":0,"compare_at_price":null,"inventory_quantity":0,"inventory_management":null,"inventory_policy":"continue","barcode":"27188586","requires_selling_plan":false,"selling_plan_allocations":[]},{"id":43889716134104,"title":"$500","option1":"$500","option2":null,"option3":null,"sku":null,"requires_shipping":false,"taxable":false,"featured_image":null,"available":true,"name":"Gift Card - $500","public_title":"$500","options":["$500"],"price":50000,"weight":0,"compare_at_price":null,"inventory_quantity":0,"inventory_management":null,"inventory_policy":"continue","barcode":"27188586","requires_selling_plan":false,"selling_plan_allocations":[]},{"id":43889716166872,"title":"$750","option1":"$750","option2":null,"option3":null,"sku":null,"requires_shipping":false,"taxable":false,"featured_image":null,"available":true,"name":"Gift Card - $750","public_title":"$750","options":["$750"],"price":75000,"weight":0,"compare_at_price":null,"inventory_quantity":0,"inventory_management":null,"inventory_policy":"continue","barcode":"27188586","requires_selling_plan":false,"selling_plan_allocations":[]},{"id":43889716199640,"title":"$1,000","option1":"$1,000","option2":null,"option3":null,"sku":null,"requires_shipping":false,"taxable":false,"featured_image":null,"available":true,"name":"Gift Card - $1,000","public_title":"$1,000","options":["$1,000"],"price":100000,"weight":0,"compare_at_price":null,"inventory_quantity":0,"inventory_management":null,"inventory_policy":"continue","barcode":"27188586","requires_selling_plan":false,"selling_plan_allocations":[]}],"images":["\/\/mpatmos.com\/cdn\/shop\/products\/mpatmos-gift-card.jpg?v=1571438571"],"featured_image":"\/\/mpatmos.com\/cdn\/shop\/products\/mpatmos-gift-card.jpg?v=1571438571","options":["Amount"],"media":[{"alt":null,"id":3000982634538,"position":1,"preview_image":{"aspect_ratio":0.667,"height":2049,"width":1366,"src":"\/\/mpatmos.com\/cdn\/shop\/products\/mpatmos-gift-card.jpg?v=1571438571"},"aspect_ratio":0.667,"height":2049,"media_type":"image","src":"\/\/mpatmos.com\/cdn\/shop\/products\/mpatmos-gift-card.jpg?v=1571438571","width":1366}],"requires_selling_plan":false,"selling_plan_groups":[],"content":"\u003cp\u003eCan't decide what to get your loved one for their birthday \/ anniversary \/ graduation \/ or a holiday?  An M.PATMOS gift card will set you in the right direction. It's an instant, thoughtful beginning to an amazing, sustainable, and stylish wardrobe addition! Gift cards can be purchased in any increment and can be used both instore and online.\u003c\/p\u003e\n\u003cp\u003eIf you purchase instore, it will be enclosed in a beautiful Hataguchi or Hartland Brooklyn card. If purchased online, you can choose whether to receive it the eco-friendly and speedy digital way or in the mail - just let us know by leaving a \"note\" on your order.\u003c\/p\u003e\n\u003cp\u003e \u003c\/p\u003e"}