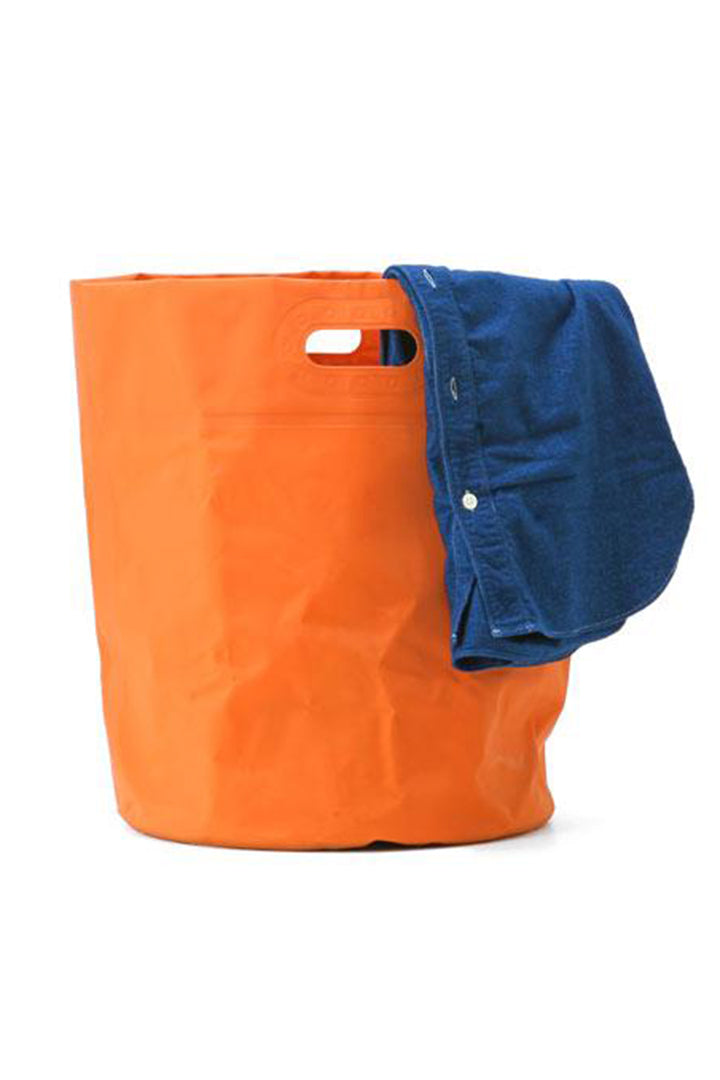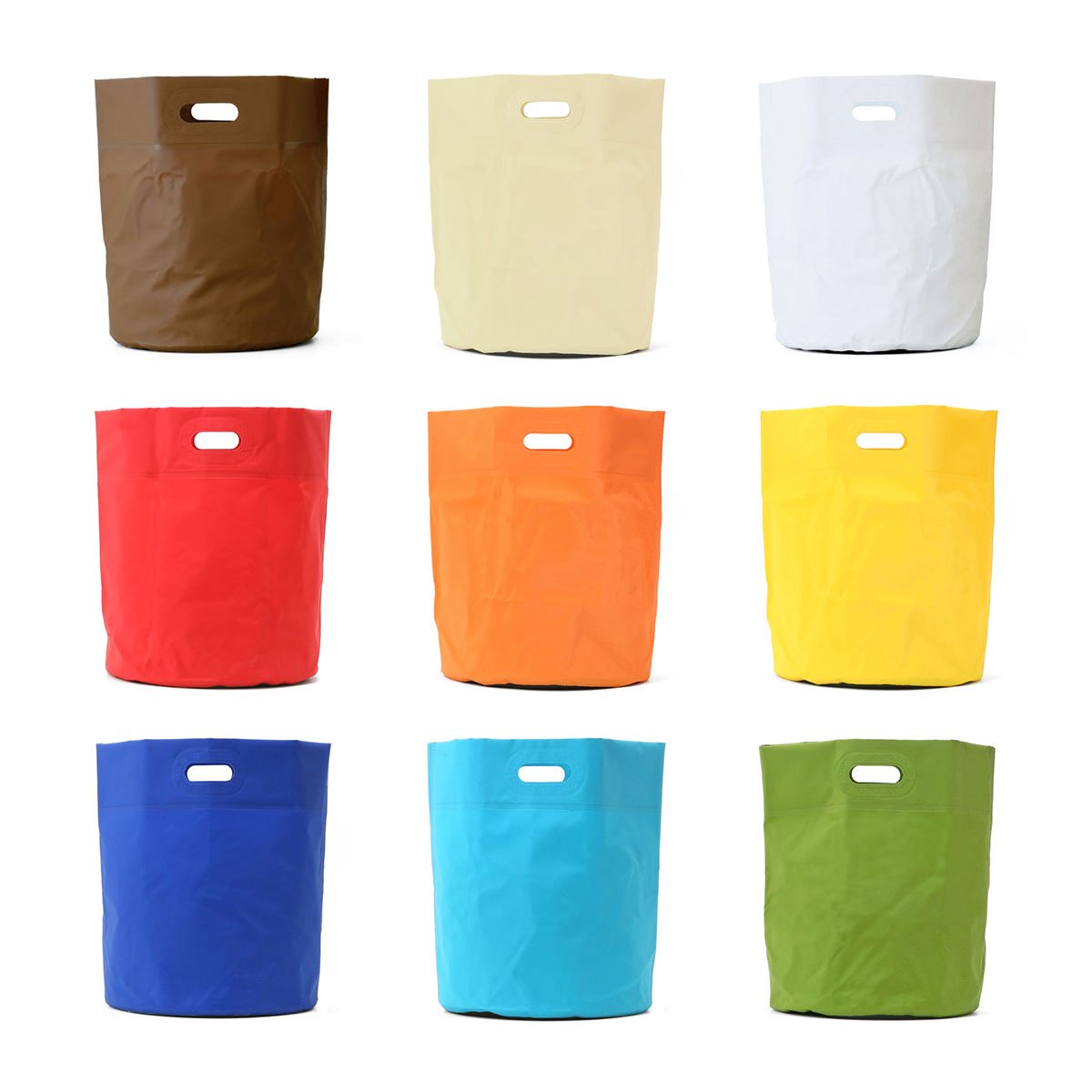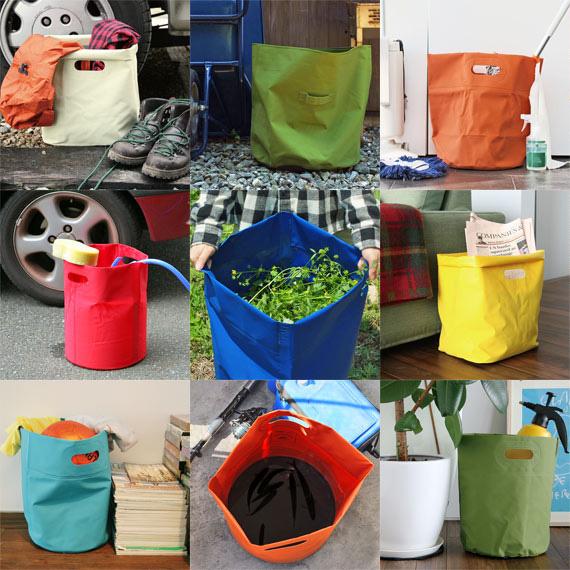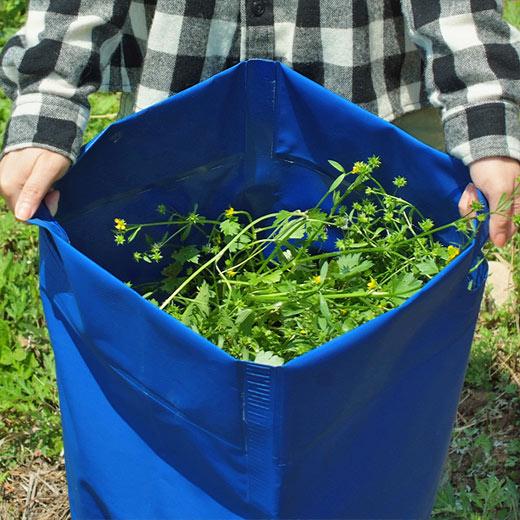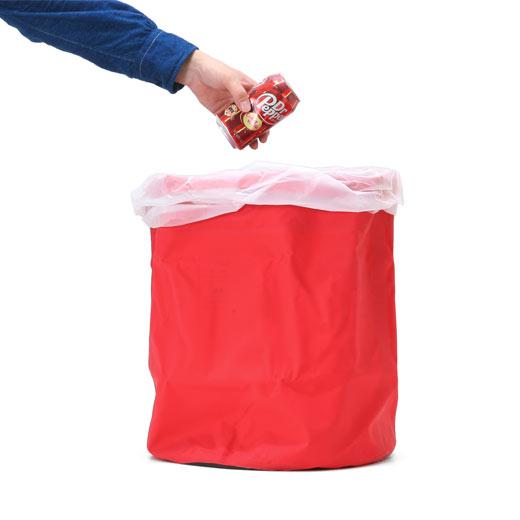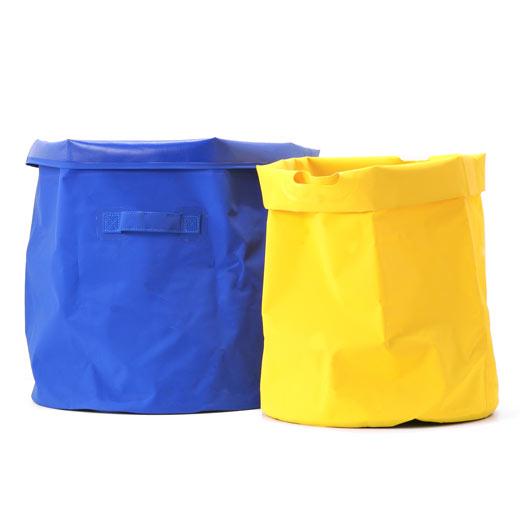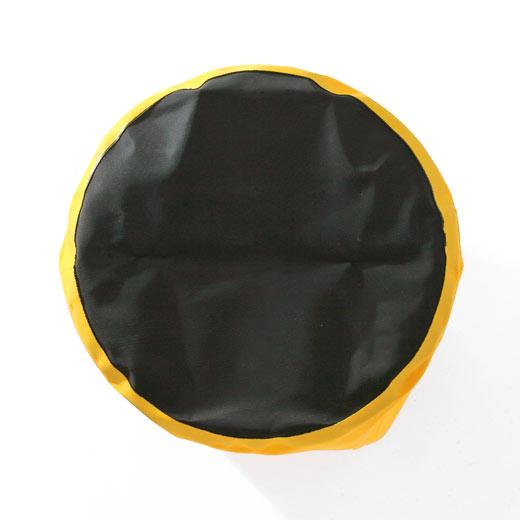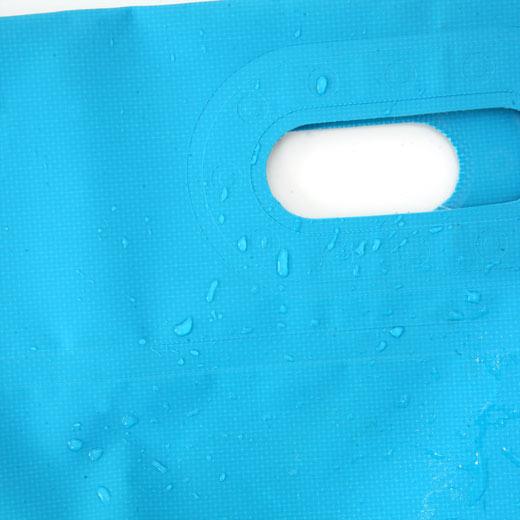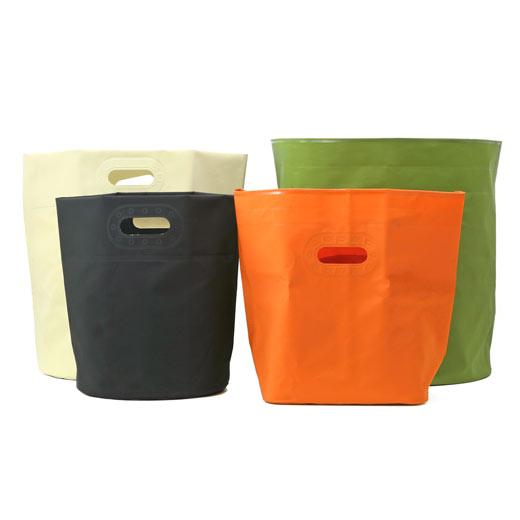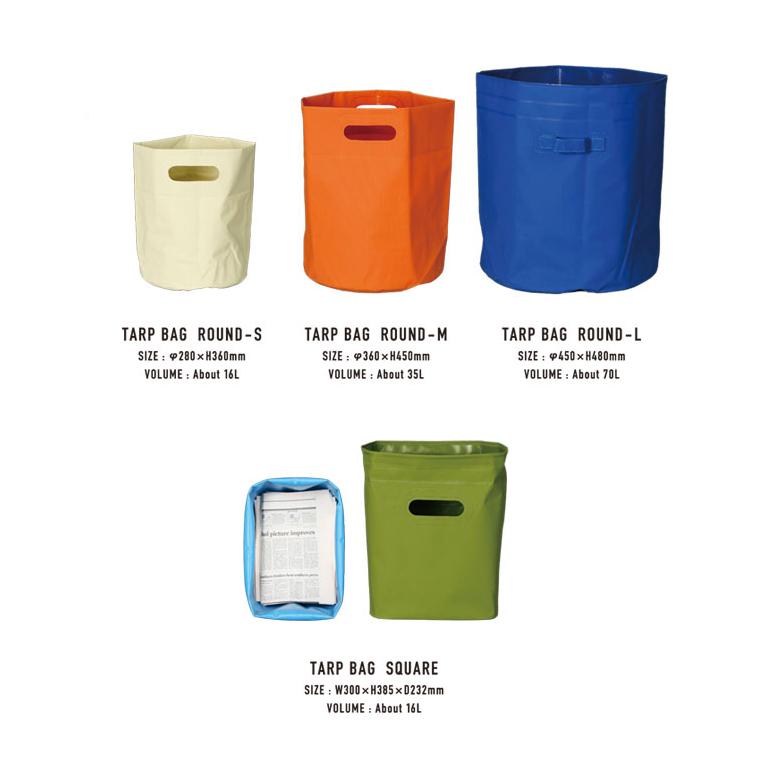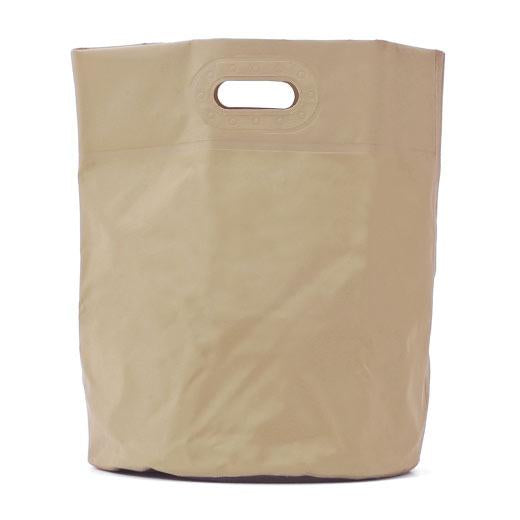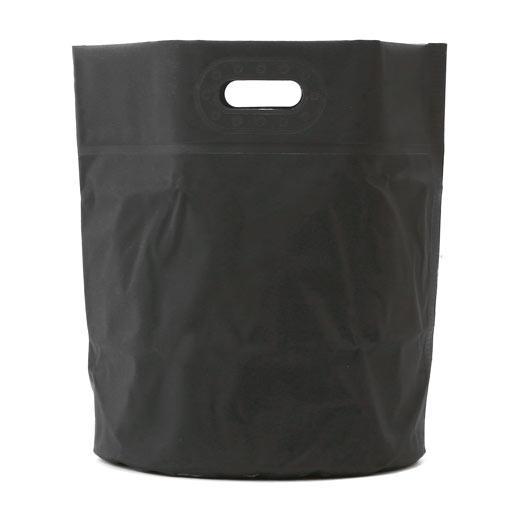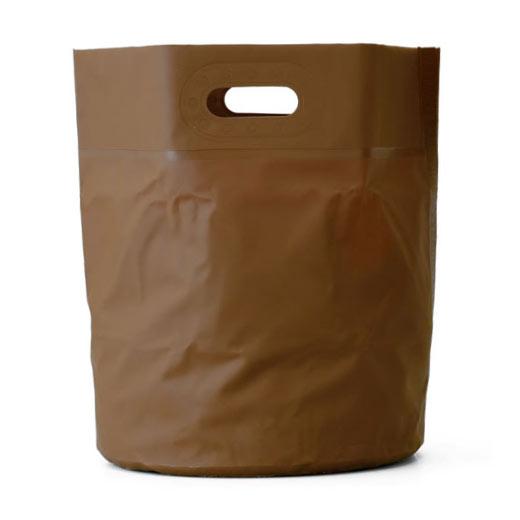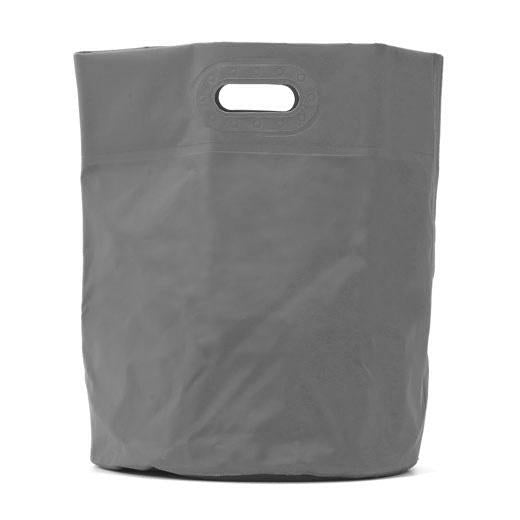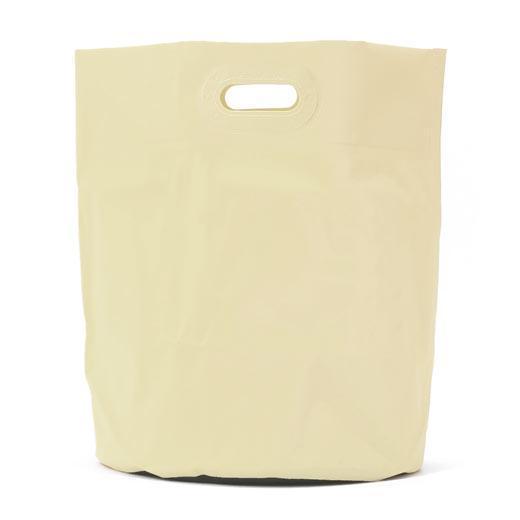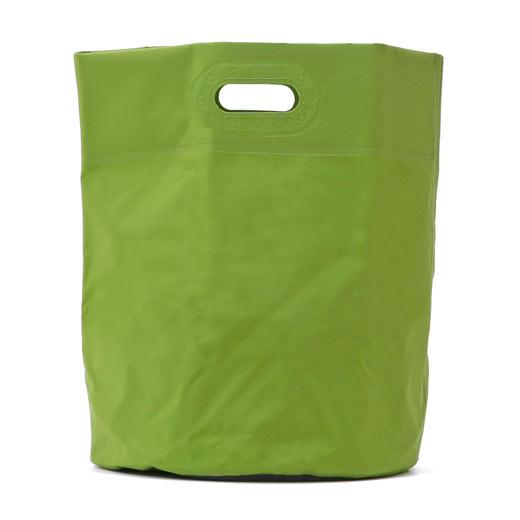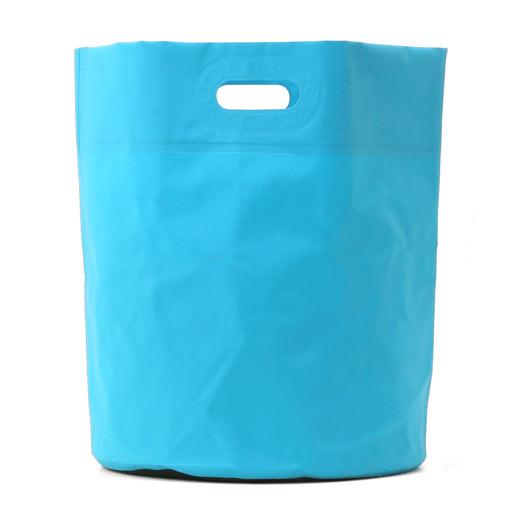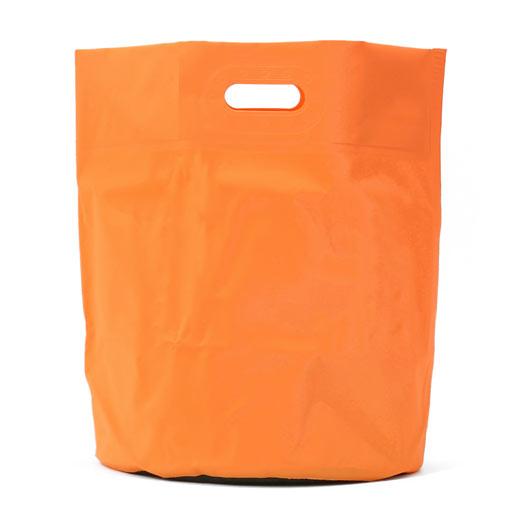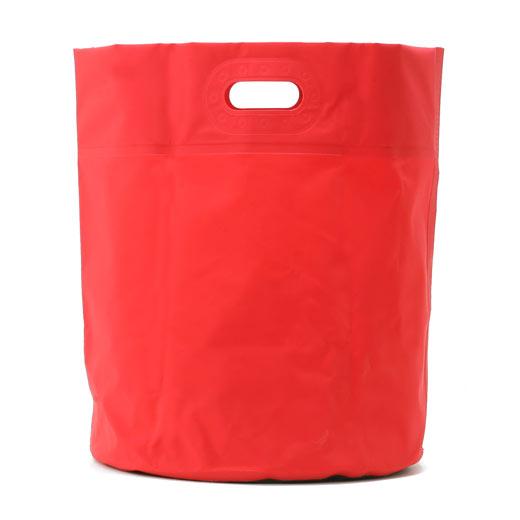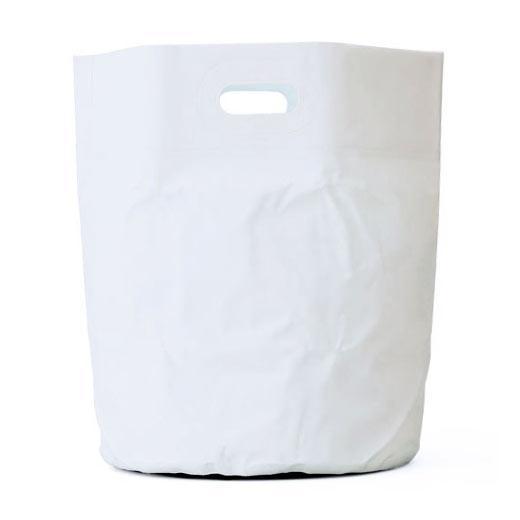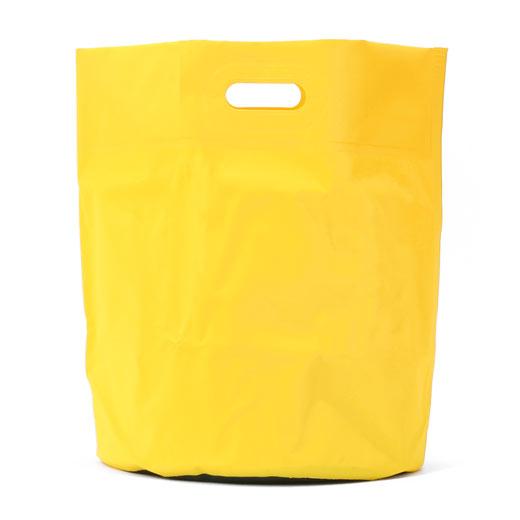 Tarp Bag Round - Medium 35L
A heavy duty water-resistant round bag made of PVC tarpaulin by Hightide. 
Dimension: (Φ)14.0" x (H)17.7"
Capacity: 9.2 gallons (35L)
NOT SURE WHAT SIZE TO GET?
Here are our fit standards according to your measurements by inches. If you have any additional questions, we'd love to help!
Contact us at customerservice@mpatmos.com.
---
{"id":6891491983511,"title":"Tarp Bag Round - Medium 35L","handle":"tarp-bag-round-m-black","description":"\u003cmeta charset=\"utf-8\"\u003e\n\u003cp\u003e\u003cspan\u003eA heavy duty water-resistant round bag made of PVC tarpaulin by Hightide. \u003c\/span\u003e\u003c\/p\u003e\n\u003cp\u003e\u003cspan\u003eDimension: (Φ)14.0\" x (H)17.7\" \u003cbr\u003eCapacity: \u003c\/span\u003e\u003cspan\u003e9.2 gallons (35L)\u003c\/span\u003e\u003c\/p\u003e","published_at":"2021-05-25T11:03:09-04:00","created_at":"2021-05-25T11:03:27-04:00","vendor":"HIGHTIDE","type":"home goods","tags":["bag","cornershop","father","gift_2021","home","home_objects","outdoor","storage","summer_suitcase","Under50"],"price":3800,"price_min":3800,"price_max":3800,"available":true,"price_varies":false,"compare_at_price":null,"compare_at_price_min":0,"compare_at_price_max":0,"compare_at_price_varies":false,"variants":[{"id":40155771404439,"title":"Beige","option1":"Beige","option2":null,"option3":null,"sku":"EZ020-BE","requires_shipping":true,"taxable":true,"featured_image":{"id":30621113516183,"product_id":6891491983511,"position":12,"created_at":"2021-05-25T11:03:27-04:00","updated_at":"2021-06-08T14:39:05-04:00","alt":null,"width":520,"height":520,"src":"\/\/mpatmos.com\/cdn\/shop\/products\/ez020-tarp-bag-round-medium-beige.jpg?v=1623177545","variant_ids":[40155771404439]},"available":true,"name":"Tarp Bag Round - Medium 35L - Beige","public_title":"Beige","options":["Beige"],"price":3800,"weight":481,"compare_at_price":null,"inventory_quantity":1,"inventory_management":"shopify","inventory_policy":"deny","barcode":"4988342242080","featured_media":{"alt":null,"id":22960138289303,"position":12,"preview_image":{"aspect_ratio":1.0,"height":520,"width":520,"src":"\/\/mpatmos.com\/cdn\/shop\/products\/ez020-tarp-bag-round-medium-beige.jpg?v=1623177545"}},"requires_selling_plan":false,"selling_plan_allocations":[]},{"id":40155771437207,"title":"Black","option1":"Black","option2":null,"option3":null,"sku":"EZ020-BK","requires_shipping":true,"taxable":true,"featured_image":{"id":30621113548951,"product_id":6891491983511,"position":13,"created_at":"2021-05-25T11:03:28-04:00","updated_at":"2021-06-08T14:39:05-04:00","alt":null,"width":520,"height":520,"src":"\/\/mpatmos.com\/cdn\/shop\/products\/item-ez020-m-02-dl_e9a8f3e4-c095-4959-a82b-50f0ce967b5b.jpg?v=1623177545","variant_ids":[40155771437207]},"available":false,"name":"Tarp Bag Round - Medium 35L - Black","public_title":"Black","options":["Black"],"price":3800,"weight":481,"compare_at_price":null,"inventory_quantity":0,"inventory_management":"shopify","inventory_policy":"deny","barcode":"4988342171076","featured_media":{"alt":null,"id":22960138322071,"position":13,"preview_image":{"aspect_ratio":1.0,"height":520,"width":520,"src":"\/\/mpatmos.com\/cdn\/shop\/products\/item-ez020-m-02-dl_e9a8f3e4-c095-4959-a82b-50f0ce967b5b.jpg?v=1623177545"}},"requires_selling_plan":false,"selling_plan_allocations":[]},{"id":40155771469975,"title":"Blue","option1":"Blue","option2":null,"option3":null,"sku":"EZ020-BL","requires_shipping":true,"taxable":true,"featured_image":{"id":30621113581719,"product_id":6891491983511,"position":14,"created_at":"2021-05-25T11:03:28-04:00","updated_at":"2021-06-08T14:39:05-04:00","alt":null,"width":520,"height":520,"src":"\/\/mpatmos.com\/cdn\/shop\/products\/Tarp-Bag-M-item-ez020-m-10-dl_7a0af2e4-62b4-415a-b0ee-93e468aaebc2.jpg?v=1623177545","variant_ids":[40155771469975]},"available":false,"name":"Tarp Bag Round - Medium 35L - Blue","public_title":"Blue","options":["Blue"],"price":3800,"weight":481,"compare_at_price":null,"inventory_quantity":0,"inventory_management":"shopify","inventory_policy":"deny","barcode":"4988342171137","featured_media":{"alt":null,"id":22960138354839,"position":14,"preview_image":{"aspect_ratio":1.0,"height":520,"width":520,"src":"\/\/mpatmos.com\/cdn\/shop\/products\/Tarp-Bag-M-item-ez020-m-10-dl_7a0af2e4-62b4-415a-b0ee-93e468aaebc2.jpg?v=1623177545"}},"requires_selling_plan":false,"selling_plan_allocations":[]},{"id":40155771502743,"title":"Brown","option1":"Brown","option2":null,"option3":null,"sku":"EZ020-BR","requires_shipping":true,"taxable":true,"featured_image":{"id":30621113614487,"product_id":6891491983511,"position":15,"created_at":"2021-05-25T11:03:28-04:00","updated_at":"2021-06-08T14:39:05-04:00","alt":null,"width":520,"height":520,"src":"\/\/mpatmos.com\/cdn\/shop\/products\/Tarp-Bag-M-item-ez020-m-05-dl_3c329537-9377-4d80-818a-580412b48544.jpg?v=1623177545","variant_ids":[40155771502743]},"available":false,"name":"Tarp Bag Round - Medium 35L - Brown","public_title":"Brown","options":["Brown"],"price":3800,"weight":481,"compare_at_price":null,"inventory_quantity":0,"inventory_management":"shopify","inventory_policy":"deny","barcode":"4988342181105","featured_media":{"alt":null,"id":22960138387607,"position":15,"preview_image":{"aspect_ratio":1.0,"height":520,"width":520,"src":"\/\/mpatmos.com\/cdn\/shop\/products\/Tarp-Bag-M-item-ez020-m-05-dl_3c329537-9377-4d80-818a-580412b48544.jpg?v=1623177545"}},"requires_selling_plan":false,"selling_plan_allocations":[]},{"id":40155771535511,"title":"Gray","option1":"Gray","option2":null,"option3":null,"sku":"EZ020-GY","requires_shipping":true,"taxable":true,"featured_image":{"id":30621113647255,"product_id":6891491983511,"position":16,"created_at":"2021-05-25T11:03:28-04:00","updated_at":"2021-06-08T14:39:05-04:00","alt":null,"width":520,"height":520,"src":"\/\/mpatmos.com\/cdn\/shop\/products\/ez020-tarp-bag-round-medium-grey_aeb2c39b-b69f-46a8-8533-bf5fd078582d.jpg?v=1623177545","variant_ids":[40155771535511]},"available":false,"name":"Tarp Bag Round - Medium 35L - Gray","public_title":"Gray","options":["Gray"],"price":3800,"weight":481,"compare_at_price":null,"inventory_quantity":0,"inventory_management":"shopify","inventory_policy":"deny","barcode":"4988342242073","featured_media":{"alt":null,"id":22960138420375,"position":16,"preview_image":{"aspect_ratio":1.0,"height":520,"width":520,"src":"\/\/mpatmos.com\/cdn\/shop\/products\/ez020-tarp-bag-round-medium-grey_aeb2c39b-b69f-46a8-8533-bf5fd078582d.jpg?v=1623177545"}},"requires_selling_plan":false,"selling_plan_allocations":[]},{"id":40155771568279,"title":"Ivory","option1":"Ivory","option2":null,"option3":null,"sku":"EZ020-IV","requires_shipping":true,"taxable":true,"featured_image":{"id":30621113680023,"product_id":6891491983511,"position":17,"created_at":"2021-05-25T11:03:28-04:00","updated_at":"2021-06-08T14:39:05-04:00","alt":null,"width":520,"height":520,"src":"\/\/mpatmos.com\/cdn\/shop\/products\/Tarp-Bag-M-item-ez020-m-04-dl_c6c88f30-34dc-417e-838a-d29f0ba63e31.jpg?v=1623177545","variant_ids":[40155771568279]},"available":false,"name":"Tarp Bag Round - Medium 35L - Ivory","public_title":"Ivory","options":["Ivory"],"price":3800,"weight":481,"compare_at_price":null,"inventory_quantity":0,"inventory_management":"shopify","inventory_policy":"deny","barcode":"4988342171083","featured_media":{"alt":null,"id":22960138453143,"position":17,"preview_image":{"aspect_ratio":1.0,"height":520,"width":520,"src":"\/\/mpatmos.com\/cdn\/shop\/products\/Tarp-Bag-M-item-ez020-m-04-dl_c6c88f30-34dc-417e-838a-d29f0ba63e31.jpg?v=1623177545"}},"requires_selling_plan":false,"selling_plan_allocations":[]},{"id":40155771601047,"title":"Khaki","option1":"Khaki","option2":null,"option3":null,"sku":"EZ020-KH","requires_shipping":true,"taxable":true,"featured_image":{"id":30621113712791,"product_id":6891491983511,"position":18,"created_at":"2021-05-25T11:03:28-04:00","updated_at":"2021-06-08T14:39:05-04:00","alt":null,"width":520,"height":520,"src":"\/\/mpatmos.com\/cdn\/shop\/products\/Tarp-Bag-M-item-ez020-m-11-dl_11f7fbd1-ec0c-4614-a900-679a75684c23.jpg?v=1623177545","variant_ids":[40155771601047]},"available":false,"name":"Tarp Bag Round - Medium 35L - Khaki","public_title":"Khaki","options":["Khaki"],"price":3800,"weight":481,"compare_at_price":null,"inventory_quantity":0,"inventory_management":"shopify","inventory_policy":"deny","barcode":"4988342171144","featured_media":{"alt":null,"id":22960138485911,"position":18,"preview_image":{"aspect_ratio":1.0,"height":520,"width":520,"src":"\/\/mpatmos.com\/cdn\/shop\/products\/Tarp-Bag-M-item-ez020-m-11-dl_11f7fbd1-ec0c-4614-a900-679a75684c23.jpg?v=1623177545"}},"requires_selling_plan":false,"selling_plan_allocations":[]},{"id":40155771633815,"title":"Light Blue","option1":"Light Blue","option2":null,"option3":null,"sku":"EZ020-LBL","requires_shipping":true,"taxable":true,"featured_image":{"id":30621113745559,"product_id":6891491983511,"position":19,"created_at":"2021-05-25T11:03:28-04:00","updated_at":"2021-06-08T14:39:05-04:00","alt":null,"width":520,"height":520,"src":"\/\/mpatmos.com\/cdn\/shop\/products\/Tarp-Bag-M-item-ez020-m-09-dl_daf88be3-42f8-4199-9bf2-03a2be5bc3b4.jpg?v=1623177545","variant_ids":[40155771633815]},"available":false,"name":"Tarp Bag Round - Medium 35L - Light Blue","public_title":"Light Blue","options":["Light Blue"],"price":3800,"weight":481,"compare_at_price":null,"inventory_quantity":0,"inventory_management":"shopify","inventory_policy":"deny","barcode":"4988342171120","featured_media":{"alt":null,"id":22960138518679,"position":19,"preview_image":{"aspect_ratio":1.0,"height":520,"width":520,"src":"\/\/mpatmos.com\/cdn\/shop\/products\/Tarp-Bag-M-item-ez020-m-09-dl_daf88be3-42f8-4199-9bf2-03a2be5bc3b4.jpg?v=1623177545"}},"requires_selling_plan":false,"selling_plan_allocations":[]},{"id":40155771666583,"title":"Orange","option1":"Orange","option2":null,"option3":null,"sku":"EZ020-OR","requires_shipping":true,"taxable":true,"featured_image":{"id":30621113778327,"product_id":6891491983511,"position":20,"created_at":"2021-05-25T11:03:28-04:00","updated_at":"2021-06-08T14:39:05-04:00","alt":null,"width":520,"height":520,"src":"\/\/mpatmos.com\/cdn\/shop\/products\/Tarp-Bag-M-item-ez020-m-08-dl_4e1f5e55-a7f7-4aff-805e-59284a6a7752.jpg?v=1623177545","variant_ids":[40155771666583]},"available":false,"name":"Tarp Bag Round - Medium 35L - Orange","public_title":"Orange","options":["Orange"],"price":3800,"weight":481,"compare_at_price":null,"inventory_quantity":0,"inventory_management":"shopify","inventory_policy":"deny","barcode":"4988342171113","featured_media":{"alt":null,"id":22960138551447,"position":20,"preview_image":{"aspect_ratio":1.0,"height":520,"width":520,"src":"\/\/mpatmos.com\/cdn\/shop\/products\/Tarp-Bag-M-item-ez020-m-08-dl_4e1f5e55-a7f7-4aff-805e-59284a6a7752.jpg?v=1623177545"}},"requires_selling_plan":false,"selling_plan_allocations":[]},{"id":40155771699351,"title":"Red","option1":"Red","option2":null,"option3":null,"sku":"EZ020-RE","requires_shipping":true,"taxable":true,"featured_image":{"id":30621113811095,"product_id":6891491983511,"position":21,"created_at":"2021-05-25T11:03:28-04:00","updated_at":"2021-06-08T14:39:05-04:00","alt":null,"width":520,"height":520,"src":"\/\/mpatmos.com\/cdn\/shop\/products\/Tarp-Bag-M-item-ez020-m-06-dl_1bec833d-172f-4cdf-af61-eb0b6f5d82c6.jpg?v=1623177545","variant_ids":[40155771699351]},"available":false,"name":"Tarp Bag Round - Medium 35L - Red","public_title":"Red","options":["Red"],"price":3800,"weight":481,"compare_at_price":null,"inventory_quantity":0,"inventory_management":"shopify","inventory_policy":"deny","barcode":"4988342171090","featured_media":{"alt":null,"id":22960138584215,"position":21,"preview_image":{"aspect_ratio":1.0,"height":520,"width":520,"src":"\/\/mpatmos.com\/cdn\/shop\/products\/Tarp-Bag-M-item-ez020-m-06-dl_1bec833d-172f-4cdf-af61-eb0b6f5d82c6.jpg?v=1623177545"}},"requires_selling_plan":false,"selling_plan_allocations":[]},{"id":40155771732119,"title":"White","option1":"White","option2":null,"option3":null,"sku":"EZ020-WH","requires_shipping":true,"taxable":true,"featured_image":{"id":30621113843863,"product_id":6891491983511,"position":22,"created_at":"2021-05-25T11:03:28-04:00","updated_at":"2021-06-08T14:39:05-04:00","alt":null,"width":520,"height":520,"src":"\/\/mpatmos.com\/cdn\/shop\/products\/Tarp-Bag-M-item-ez020-m-03-dl_9d242778-28ea-45ce-99d7-4c542373fade.jpg?v=1623177545","variant_ids":[40155771732119]},"available":false,"name":"Tarp Bag Round - Medium 35L - White","public_title":"White","options":["White"],"price":3800,"weight":481,"compare_at_price":null,"inventory_quantity":0,"inventory_management":"shopify","inventory_policy":"deny","barcode":"4988342181099","featured_media":{"alt":null,"id":22960138616983,"position":22,"preview_image":{"aspect_ratio":1.0,"height":520,"width":520,"src":"\/\/mpatmos.com\/cdn\/shop\/products\/Tarp-Bag-M-item-ez020-m-03-dl_9d242778-28ea-45ce-99d7-4c542373fade.jpg?v=1623177545"}},"requires_selling_plan":false,"selling_plan_allocations":[]},{"id":40155771764887,"title":"Yellow","option1":"Yellow","option2":null,"option3":null,"sku":"EZ020-YE","requires_shipping":true,"taxable":true,"featured_image":{"id":30621113876631,"product_id":6891491983511,"position":23,"created_at":"2021-05-25T11:03:28-04:00","updated_at":"2021-06-08T14:39:05-04:00","alt":null,"width":520,"height":520,"src":"\/\/mpatmos.com\/cdn\/shop\/products\/Tarp-Bag-M-item-ez020-m-07-dl_54a9baff-4530-4194-8406-da2ea02fab2f.jpg?v=1623177545","variant_ids":[40155771764887]},"available":false,"name":"Tarp Bag Round - Medium 35L - Yellow","public_title":"Yellow","options":["Yellow"],"price":3800,"weight":481,"compare_at_price":null,"inventory_quantity":0,"inventory_management":"shopify","inventory_policy":"deny","barcode":"4988342171106","featured_media":{"alt":null,"id":22960138649751,"position":23,"preview_image":{"aspect_ratio":1.0,"height":520,"width":520,"src":"\/\/mpatmos.com\/cdn\/shop\/products\/Tarp-Bag-M-item-ez020-m-07-dl_54a9baff-4530-4194-8406-da2ea02fab2f.jpg?v=1623177545"}},"requires_selling_plan":false,"selling_plan_allocations":[]}],"images":["\/\/mpatmos.com\/cdn\/shop\/products\/item-ez021-s-06-dl.jpg?v=1623177545","\/\/mpatmos.com\/cdn\/shop\/products\/TarpBagM_s_dc1f7f0c-43ce-49a0-aa33-4ac566422865.jpg?v=1623177545","\/\/mpatmos.com\/cdn\/shop\/products\/ez018-04_53663d8b-af40-49cc-a086-393ac6512601.jpg?v=1667413107","\/\/mpatmos.com\/cdn\/shop\/products\/item-ez020-m-01-dl.jpg?v=1667408387","\/\/mpatmos.com\/cdn\/shop\/products\/item-ez021-s-05-dl_3926231d-863d-4a8a-8874-bc8ca036253d.jpg?v=1667404581","\/\/mpatmos.com\/cdn\/shop\/products\/item-ez020-s-08-dl.jpg?v=1623177545","\/\/mpatmos.com\/cdn\/shop\/products\/item-ez020-s-04-dl.jpg?v=1667414891","\/\/mpatmos.com\/cdn\/shop\/products\/item-ez020-s-07-dl.jpg?v=1667406739","\/\/mpatmos.com\/cdn\/shop\/products\/item-ez020-s-09-dl_4b001f07-c9b6-4cbd-8cec-27d853910f4d.jpg?v=1623177545","\/\/mpatmos.com\/cdn\/shop\/products\/ez018-05_23970122-2afb-47b3-97c3-66860864dcb0.jpg?v=1667414885","\/\/mpatmos.com\/cdn\/shop\/products\/ez018-02_2511a76a-a017-4fb2-9e80-d77dafa4414a.jpg?v=1667405959","\/\/mpatmos.com\/cdn\/shop\/products\/ez020-tarp-bag-round-medium-beige.jpg?v=1623177545","\/\/mpatmos.com\/cdn\/shop\/products\/item-ez020-m-02-dl_e9a8f3e4-c095-4959-a82b-50f0ce967b5b.jpg?v=1623177545","\/\/mpatmos.com\/cdn\/shop\/products\/Tarp-Bag-M-item-ez020-m-10-dl_7a0af2e4-62b4-415a-b0ee-93e468aaebc2.jpg?v=1623177545","\/\/mpatmos.com\/cdn\/shop\/products\/Tarp-Bag-M-item-ez020-m-05-dl_3c329537-9377-4d80-818a-580412b48544.jpg?v=1623177545","\/\/mpatmos.com\/cdn\/shop\/products\/ez020-tarp-bag-round-medium-grey_aeb2c39b-b69f-46a8-8533-bf5fd078582d.jpg?v=1623177545","\/\/mpatmos.com\/cdn\/shop\/products\/Tarp-Bag-M-item-ez020-m-04-dl_c6c88f30-34dc-417e-838a-d29f0ba63e31.jpg?v=1623177545","\/\/mpatmos.com\/cdn\/shop\/products\/Tarp-Bag-M-item-ez020-m-11-dl_11f7fbd1-ec0c-4614-a900-679a75684c23.jpg?v=1623177545","\/\/mpatmos.com\/cdn\/shop\/products\/Tarp-Bag-M-item-ez020-m-09-dl_daf88be3-42f8-4199-9bf2-03a2be5bc3b4.jpg?v=1623177545","\/\/mpatmos.com\/cdn\/shop\/products\/Tarp-Bag-M-item-ez020-m-08-dl_4e1f5e55-a7f7-4aff-805e-59284a6a7752.jpg?v=1623177545","\/\/mpatmos.com\/cdn\/shop\/products\/Tarp-Bag-M-item-ez020-m-06-dl_1bec833d-172f-4cdf-af61-eb0b6f5d82c6.jpg?v=1623177545","\/\/mpatmos.com\/cdn\/shop\/products\/Tarp-Bag-M-item-ez020-m-03-dl_9d242778-28ea-45ce-99d7-4c542373fade.jpg?v=1623177545","\/\/mpatmos.com\/cdn\/shop\/products\/Tarp-Bag-M-item-ez020-m-07-dl_54a9baff-4530-4194-8406-da2ea02fab2f.jpg?v=1623177545"],"featured_image":"\/\/mpatmos.com\/cdn\/shop\/products\/item-ez021-s-06-dl.jpg?v=1623177545","options":["Color"],"media":[{"alt":null,"id":23136758890647,"position":1,"preview_image":{"aspect_ratio":0.667,"height":1080,"width":720,"src":"\/\/mpatmos.com\/cdn\/shop\/products\/item-ez021-s-06-dl.jpg?v=1623177545"},"aspect_ratio":0.667,"height":1080,"media_type":"image","src":"\/\/mpatmos.com\/cdn\/shop\/products\/item-ez021-s-06-dl.jpg?v=1623177545","width":720},{"alt":null,"id":22960137961623,"position":2,"preview_image":{"aspect_ratio":1.0,"height":1200,"width":1200,"src":"\/\/mpatmos.com\/cdn\/shop\/products\/TarpBagM_s_dc1f7f0c-43ce-49a0-aa33-4ac566422865.jpg?v=1623177545"},"aspect_ratio":1.0,"height":1200,"media_type":"image","src":"\/\/mpatmos.com\/cdn\/shop\/products\/TarpBagM_s_dc1f7f0c-43ce-49a0-aa33-4ac566422865.jpg?v=1623177545","width":1200},{"alt":null,"id":22960137994391,"position":3,"preview_image":{"aspect_ratio":1.0,"height":570,"width":570,"src":"\/\/mpatmos.com\/cdn\/shop\/products\/ez018-04_53663d8b-af40-49cc-a086-393ac6512601.jpg?v=1667413107"},"aspect_ratio":1.0,"height":570,"media_type":"image","src":"\/\/mpatmos.com\/cdn\/shop\/products\/ez018-04_53663d8b-af40-49cc-a086-393ac6512601.jpg?v=1667413107","width":570},{"alt":null,"id":22960138027159,"position":4,"preview_image":{"aspect_ratio":1.0,"height":520,"width":520,"src":"\/\/mpatmos.com\/cdn\/shop\/products\/item-ez020-m-01-dl.jpg?v=1667408387"},"aspect_ratio":1.0,"height":520,"media_type":"image","src":"\/\/mpatmos.com\/cdn\/shop\/products\/item-ez020-m-01-dl.jpg?v=1667408387","width":520},{"alt":null,"id":22960138059927,"position":5,"preview_image":{"aspect_ratio":1.0,"height":520,"width":520,"src":"\/\/mpatmos.com\/cdn\/shop\/products\/item-ez021-s-05-dl_3926231d-863d-4a8a-8874-bc8ca036253d.jpg?v=1667404581"},"aspect_ratio":1.0,"height":520,"media_type":"image","src":"\/\/mpatmos.com\/cdn\/shop\/products\/item-ez021-s-05-dl_3926231d-863d-4a8a-8874-bc8ca036253d.jpg?v=1667404581","width":520},{"alt":null,"id":22960138092695,"position":6,"preview_image":{"aspect_ratio":1.0,"height":520,"width":520,"src":"\/\/mpatmos.com\/cdn\/shop\/products\/item-ez020-s-08-dl.jpg?v=1623177545"},"aspect_ratio":1.0,"height":520,"media_type":"image","src":"\/\/mpatmos.com\/cdn\/shop\/products\/item-ez020-s-08-dl.jpg?v=1623177545","width":520},{"alt":null,"id":22960138125463,"position":7,"preview_image":{"aspect_ratio":1.0,"height":520,"width":520,"src":"\/\/mpatmos.com\/cdn\/shop\/products\/item-ez020-s-04-dl.jpg?v=1667414891"},"aspect_ratio":1.0,"height":520,"media_type":"image","src":"\/\/mpatmos.com\/cdn\/shop\/products\/item-ez020-s-04-dl.jpg?v=1667414891","width":520},{"alt":null,"id":22960138158231,"position":8,"preview_image":{"aspect_ratio":1.0,"height":520,"width":520,"src":"\/\/mpatmos.com\/cdn\/shop\/products\/item-ez020-s-07-dl.jpg?v=1667406739"},"aspect_ratio":1.0,"height":520,"media_type":"image","src":"\/\/mpatmos.com\/cdn\/shop\/products\/item-ez020-s-07-dl.jpg?v=1667406739","width":520},{"alt":null,"id":22960138190999,"position":9,"preview_image":{"aspect_ratio":1.0,"height":520,"width":520,"src":"\/\/mpatmos.com\/cdn\/shop\/products\/item-ez020-s-09-dl_4b001f07-c9b6-4cbd-8cec-27d853910f4d.jpg?v=1623177545"},"aspect_ratio":1.0,"height":520,"media_type":"image","src":"\/\/mpatmos.com\/cdn\/shop\/products\/item-ez020-s-09-dl_4b001f07-c9b6-4cbd-8cec-27d853910f4d.jpg?v=1623177545","width":520},{"alt":null,"id":22960138223767,"position":10,"preview_image":{"aspect_ratio":1.0,"height":600,"width":600,"src":"\/\/mpatmos.com\/cdn\/shop\/products\/ez018-05_23970122-2afb-47b3-97c3-66860864dcb0.jpg?v=1667414885"},"aspect_ratio":1.0,"height":600,"media_type":"image","src":"\/\/mpatmos.com\/cdn\/shop\/products\/ez018-05_23970122-2afb-47b3-97c3-66860864dcb0.jpg?v=1667414885","width":600},{"alt":null,"id":22960138256535,"position":11,"preview_image":{"aspect_ratio":1.0,"height":760,"width":760,"src":"\/\/mpatmos.com\/cdn\/shop\/products\/ez018-02_2511a76a-a017-4fb2-9e80-d77dafa4414a.jpg?v=1667405959"},"aspect_ratio":1.0,"height":760,"media_type":"image","src":"\/\/mpatmos.com\/cdn\/shop\/products\/ez018-02_2511a76a-a017-4fb2-9e80-d77dafa4414a.jpg?v=1667405959","width":760},{"alt":null,"id":22960138289303,"position":12,"preview_image":{"aspect_ratio":1.0,"height":520,"width":520,"src":"\/\/mpatmos.com\/cdn\/shop\/products\/ez020-tarp-bag-round-medium-beige.jpg?v=1623177545"},"aspect_ratio":1.0,"height":520,"media_type":"image","src":"\/\/mpatmos.com\/cdn\/shop\/products\/ez020-tarp-bag-round-medium-beige.jpg?v=1623177545","width":520},{"alt":null,"id":22960138322071,"position":13,"preview_image":{"aspect_ratio":1.0,"height":520,"width":520,"src":"\/\/mpatmos.com\/cdn\/shop\/products\/item-ez020-m-02-dl_e9a8f3e4-c095-4959-a82b-50f0ce967b5b.jpg?v=1623177545"},"aspect_ratio":1.0,"height":520,"media_type":"image","src":"\/\/mpatmos.com\/cdn\/shop\/products\/item-ez020-m-02-dl_e9a8f3e4-c095-4959-a82b-50f0ce967b5b.jpg?v=1623177545","width":520},{"alt":null,"id":22960138354839,"position":14,"preview_image":{"aspect_ratio":1.0,"height":520,"width":520,"src":"\/\/mpatmos.com\/cdn\/shop\/products\/Tarp-Bag-M-item-ez020-m-10-dl_7a0af2e4-62b4-415a-b0ee-93e468aaebc2.jpg?v=1623177545"},"aspect_ratio":1.0,"height":520,"media_type":"image","src":"\/\/mpatmos.com\/cdn\/shop\/products\/Tarp-Bag-M-item-ez020-m-10-dl_7a0af2e4-62b4-415a-b0ee-93e468aaebc2.jpg?v=1623177545","width":520},{"alt":null,"id":22960138387607,"position":15,"preview_image":{"aspect_ratio":1.0,"height":520,"width":520,"src":"\/\/mpatmos.com\/cdn\/shop\/products\/Tarp-Bag-M-item-ez020-m-05-dl_3c329537-9377-4d80-818a-580412b48544.jpg?v=1623177545"},"aspect_ratio":1.0,"height":520,"media_type":"image","src":"\/\/mpatmos.com\/cdn\/shop\/products\/Tarp-Bag-M-item-ez020-m-05-dl_3c329537-9377-4d80-818a-580412b48544.jpg?v=1623177545","width":520},{"alt":null,"id":22960138420375,"position":16,"preview_image":{"aspect_ratio":1.0,"height":520,"width":520,"src":"\/\/mpatmos.com\/cdn\/shop\/products\/ez020-tarp-bag-round-medium-grey_aeb2c39b-b69f-46a8-8533-bf5fd078582d.jpg?v=1623177545"},"aspect_ratio":1.0,"height":520,"media_type":"image","src":"\/\/mpatmos.com\/cdn\/shop\/products\/ez020-tarp-bag-round-medium-grey_aeb2c39b-b69f-46a8-8533-bf5fd078582d.jpg?v=1623177545","width":520},{"alt":null,"id":22960138453143,"position":17,"preview_image":{"aspect_ratio":1.0,"height":520,"width":520,"src":"\/\/mpatmos.com\/cdn\/shop\/products\/Tarp-Bag-M-item-ez020-m-04-dl_c6c88f30-34dc-417e-838a-d29f0ba63e31.jpg?v=1623177545"},"aspect_ratio":1.0,"height":520,"media_type":"image","src":"\/\/mpatmos.com\/cdn\/shop\/products\/Tarp-Bag-M-item-ez020-m-04-dl_c6c88f30-34dc-417e-838a-d29f0ba63e31.jpg?v=1623177545","width":520},{"alt":null,"id":22960138485911,"position":18,"preview_image":{"aspect_ratio":1.0,"height":520,"width":520,"src":"\/\/mpatmos.com\/cdn\/shop\/products\/Tarp-Bag-M-item-ez020-m-11-dl_11f7fbd1-ec0c-4614-a900-679a75684c23.jpg?v=1623177545"},"aspect_ratio":1.0,"height":520,"media_type":"image","src":"\/\/mpatmos.com\/cdn\/shop\/products\/Tarp-Bag-M-item-ez020-m-11-dl_11f7fbd1-ec0c-4614-a900-679a75684c23.jpg?v=1623177545","width":520},{"alt":null,"id":22960138518679,"position":19,"preview_image":{"aspect_ratio":1.0,"height":520,"width":520,"src":"\/\/mpatmos.com\/cdn\/shop\/products\/Tarp-Bag-M-item-ez020-m-09-dl_daf88be3-42f8-4199-9bf2-03a2be5bc3b4.jpg?v=1623177545"},"aspect_ratio":1.0,"height":520,"media_type":"image","src":"\/\/mpatmos.com\/cdn\/shop\/products\/Tarp-Bag-M-item-ez020-m-09-dl_daf88be3-42f8-4199-9bf2-03a2be5bc3b4.jpg?v=1623177545","width":520},{"alt":null,"id":22960138551447,"position":20,"preview_image":{"aspect_ratio":1.0,"height":520,"width":520,"src":"\/\/mpatmos.com\/cdn\/shop\/products\/Tarp-Bag-M-item-ez020-m-08-dl_4e1f5e55-a7f7-4aff-805e-59284a6a7752.jpg?v=1623177545"},"aspect_ratio":1.0,"height":520,"media_type":"image","src":"\/\/mpatmos.com\/cdn\/shop\/products\/Tarp-Bag-M-item-ez020-m-08-dl_4e1f5e55-a7f7-4aff-805e-59284a6a7752.jpg?v=1623177545","width":520},{"alt":null,"id":22960138584215,"position":21,"preview_image":{"aspect_ratio":1.0,"height":520,"width":520,"src":"\/\/mpatmos.com\/cdn\/shop\/products\/Tarp-Bag-M-item-ez020-m-06-dl_1bec833d-172f-4cdf-af61-eb0b6f5d82c6.jpg?v=1623177545"},"aspect_ratio":1.0,"height":520,"media_type":"image","src":"\/\/mpatmos.com\/cdn\/shop\/products\/Tarp-Bag-M-item-ez020-m-06-dl_1bec833d-172f-4cdf-af61-eb0b6f5d82c6.jpg?v=1623177545","width":520},{"alt":null,"id":22960138616983,"position":22,"preview_image":{"aspect_ratio":1.0,"height":520,"width":520,"src":"\/\/mpatmos.com\/cdn\/shop\/products\/Tarp-Bag-M-item-ez020-m-03-dl_9d242778-28ea-45ce-99d7-4c542373fade.jpg?v=1623177545"},"aspect_ratio":1.0,"height":520,"media_type":"image","src":"\/\/mpatmos.com\/cdn\/shop\/products\/Tarp-Bag-M-item-ez020-m-03-dl_9d242778-28ea-45ce-99d7-4c542373fade.jpg?v=1623177545","width":520},{"alt":null,"id":22960138649751,"position":23,"preview_image":{"aspect_ratio":1.0,"height":520,"width":520,"src":"\/\/mpatmos.com\/cdn\/shop\/products\/Tarp-Bag-M-item-ez020-m-07-dl_54a9baff-4530-4194-8406-da2ea02fab2f.jpg?v=1623177545"},"aspect_ratio":1.0,"height":520,"media_type":"image","src":"\/\/mpatmos.com\/cdn\/shop\/products\/Tarp-Bag-M-item-ez020-m-07-dl_54a9baff-4530-4194-8406-da2ea02fab2f.jpg?v=1623177545","width":520}],"requires_selling_plan":false,"selling_plan_groups":[],"content":"\u003cmeta charset=\"utf-8\"\u003e\n\u003cp\u003e\u003cspan\u003eA heavy duty water-resistant round bag made of PVC tarpaulin by Hightide. \u003c\/span\u003e\u003c\/p\u003e\n\u003cp\u003e\u003cspan\u003eDimension: (Φ)14.0\" x (H)17.7\" \u003cbr\u003eCapacity: \u003c\/span\u003e\u003cspan\u003e9.2 gallons (35L)\u003c\/span\u003e\u003c\/p\u003e"}