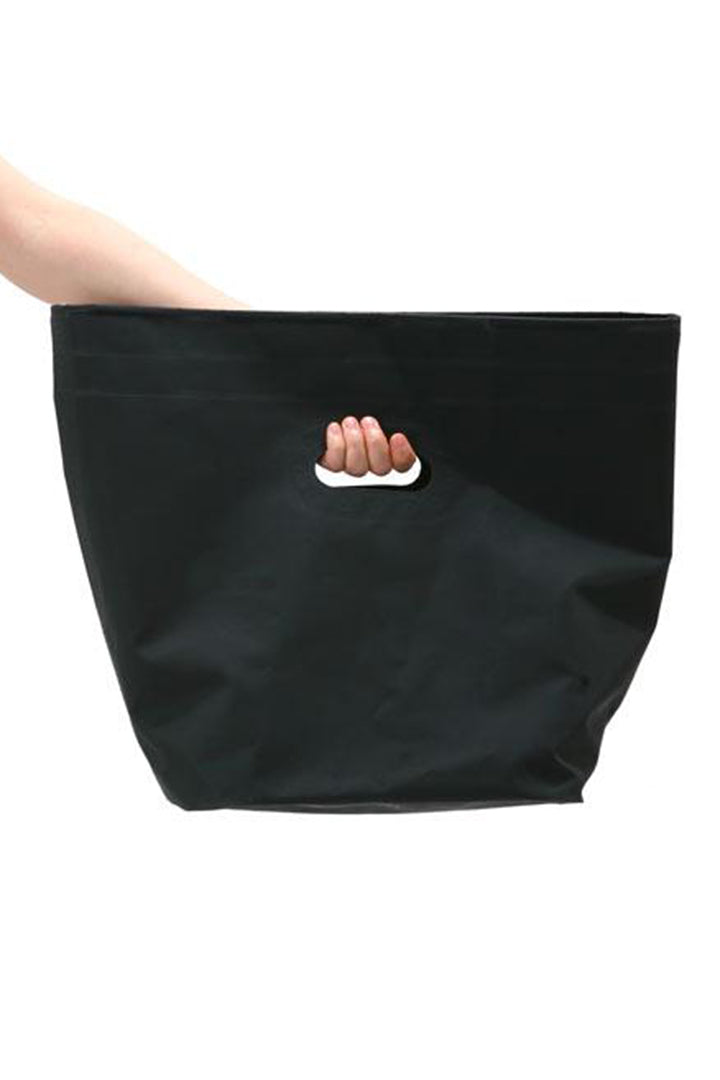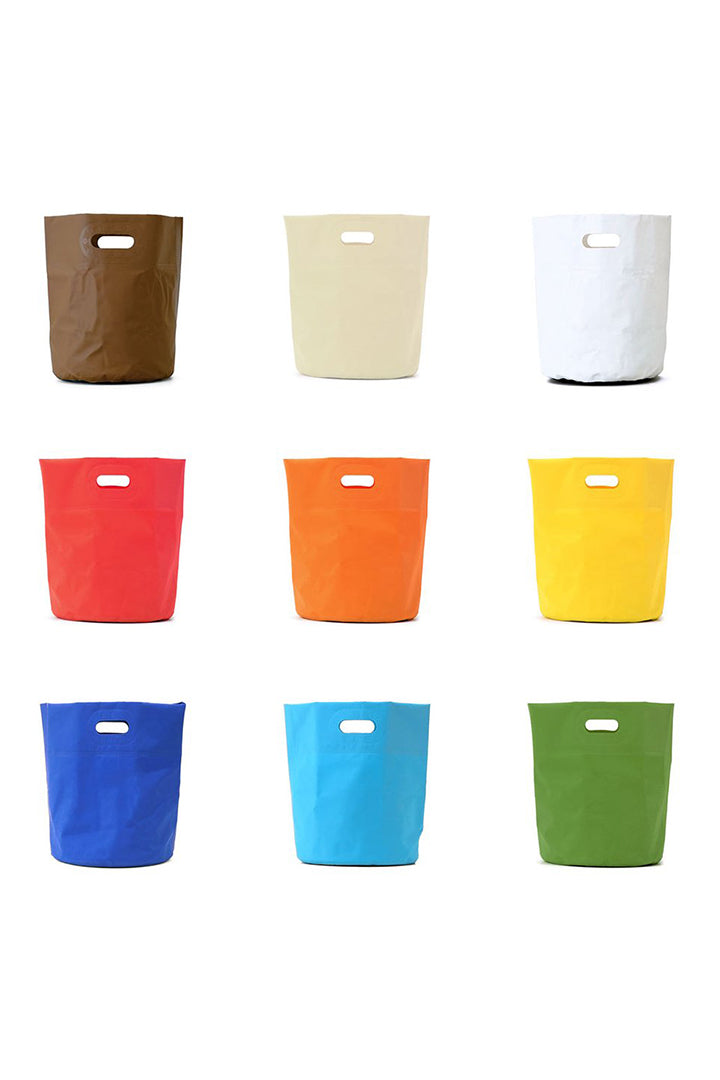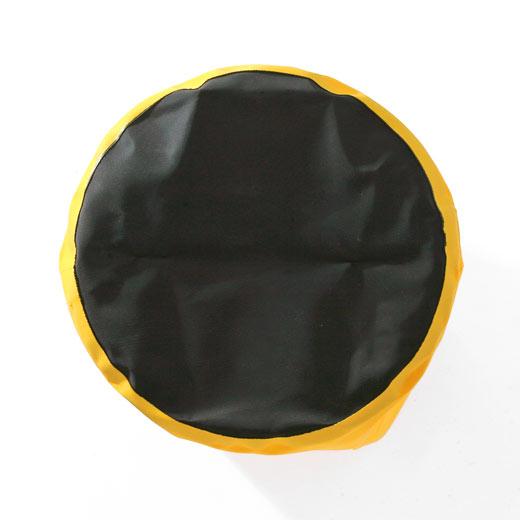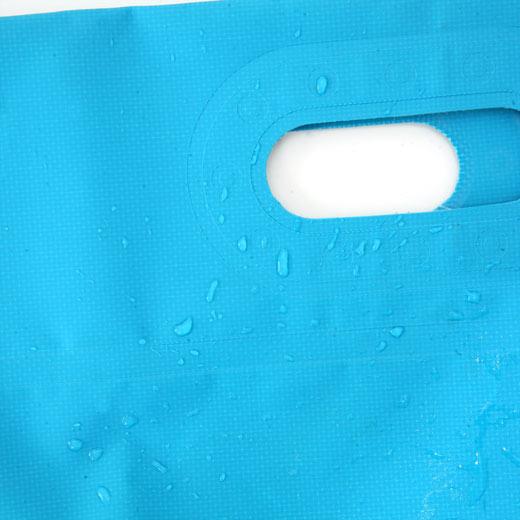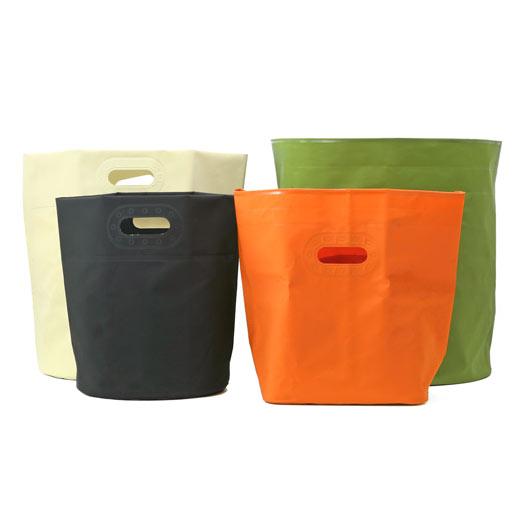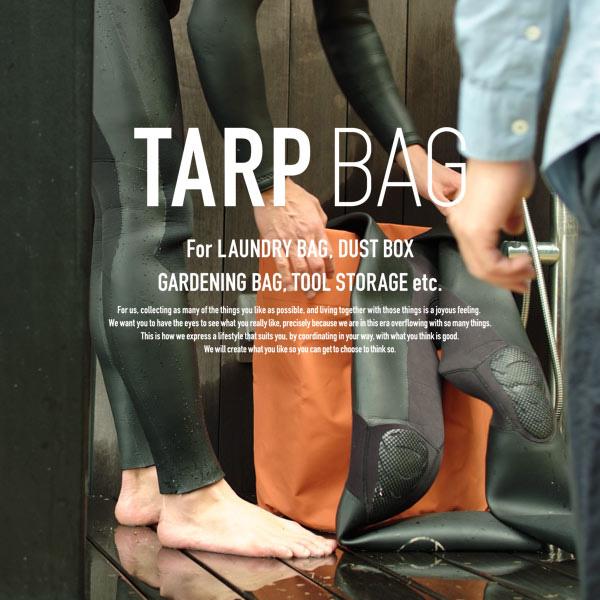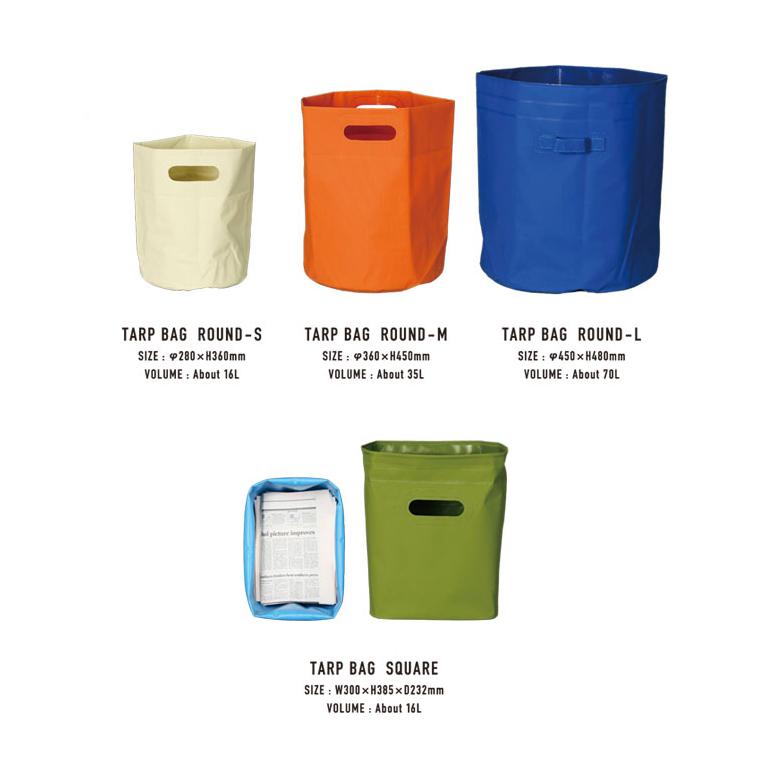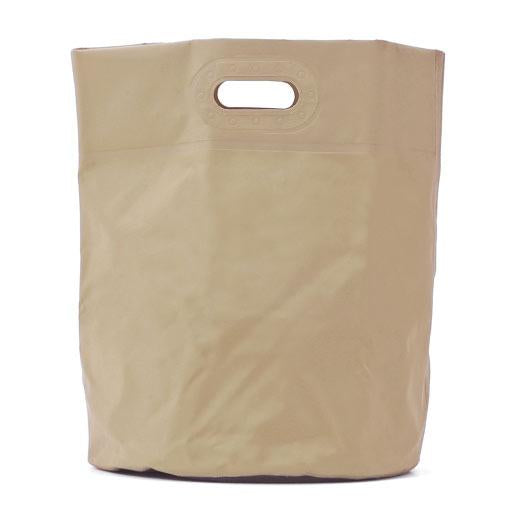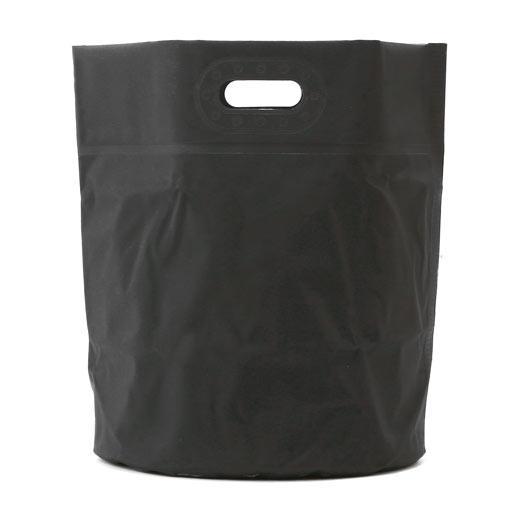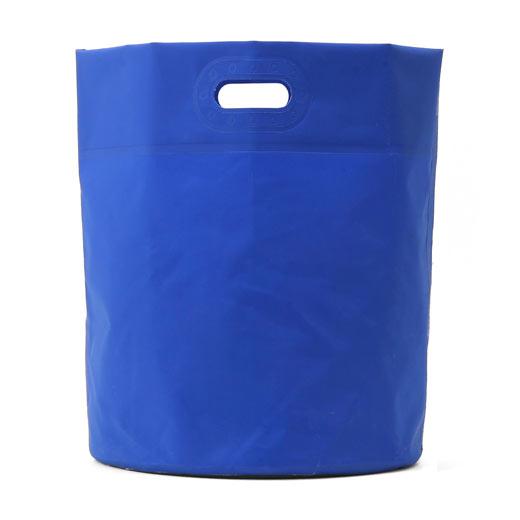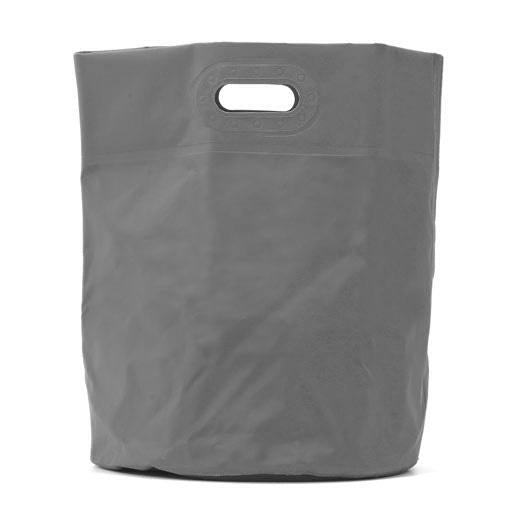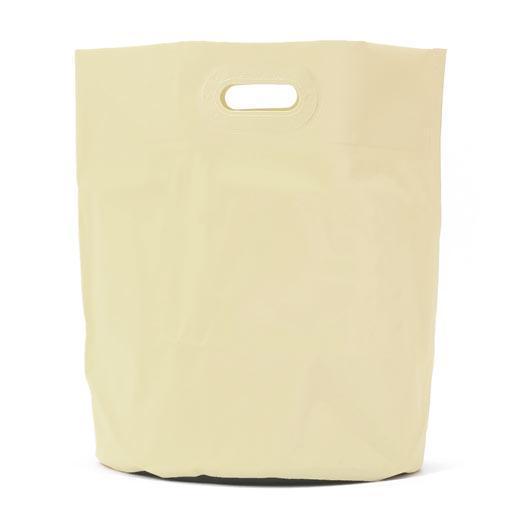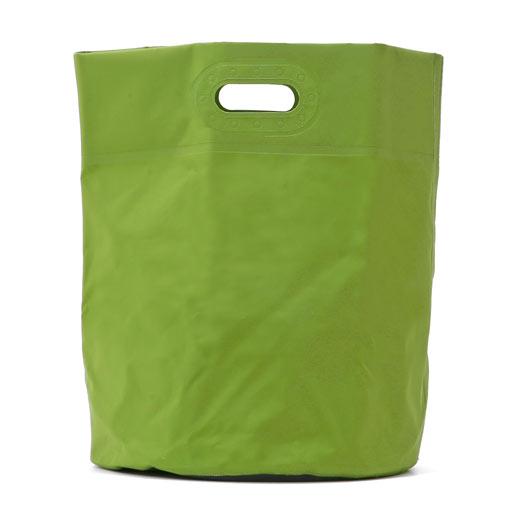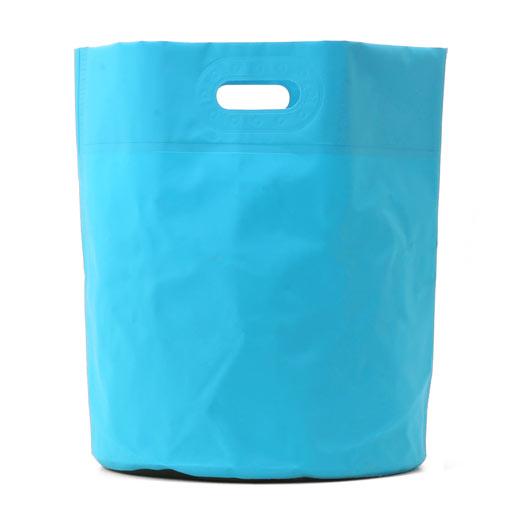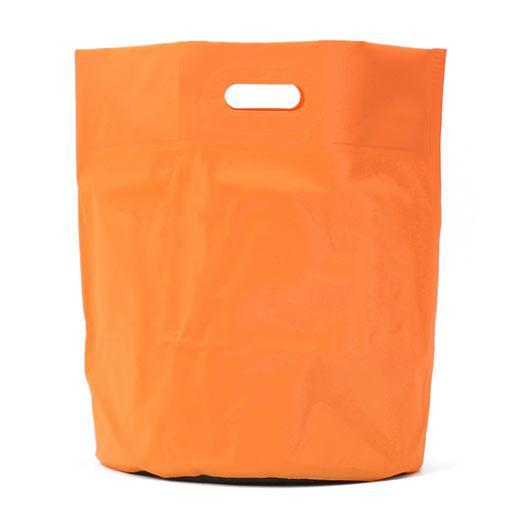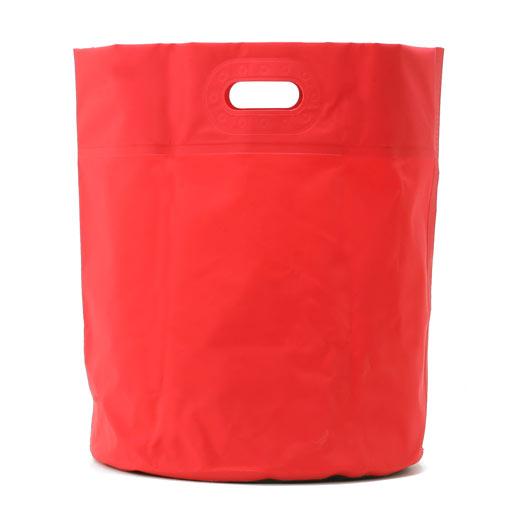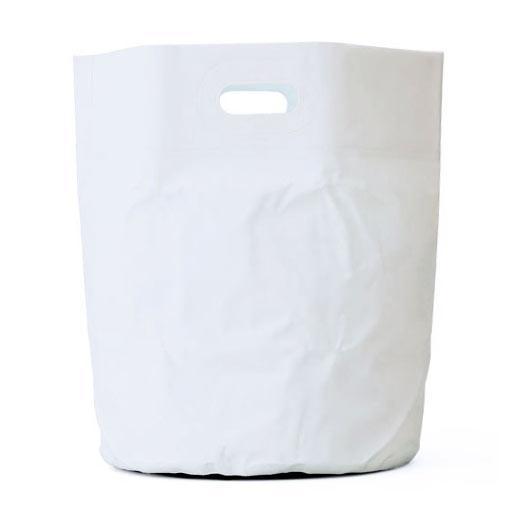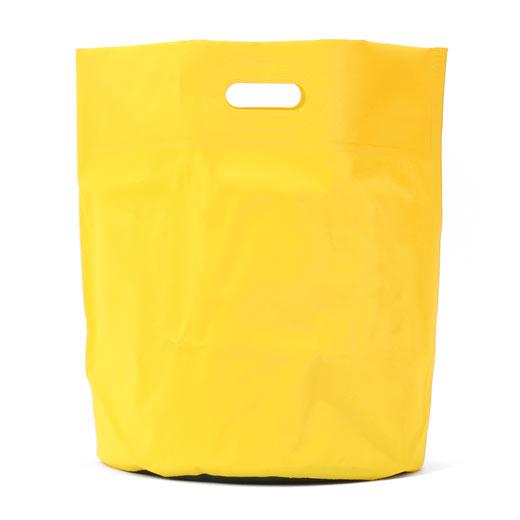 Tarp Bag Round - Small 16L
A heavy duty water-resistant round bag made of PVC tarpaulin by Hightide. 
Dimension: (Φ)11.0" x (H)14.0"
Capacity: 4.2 gallons (16L)
NOT SURE WHAT SIZE TO GET?
Here are our fit standards according to your measurements by inches. If you have any additional questions, we'd love to help!
Contact us at customerservice@mpatmos.com.
---
{"id":6957640450199,"title":"Tarp Bag Round - Small 16L","handle":"tarp-bag-round-small","description":"\u003cmeta charset=\"utf-8\"\u003e\n\u003cp\u003e\u003cspan\u003eA heavy duty water-resistant round bag made of PVC tarpaulin by Hightide. \u003c\/span\u003e\u003c\/p\u003e\n\u003cp\u003e\u003cspan\u003eDimension: (Φ)11.0\" x (H)14.0\"\u003cbr\u003eCapacity: 4.2 gallons (16L)\u003c\/span\u003e\u003c\/p\u003e","published_at":"2021-06-17T13:26:10-04:00","created_at":"2021-06-17T13:26:10-04:00","vendor":"HIGHTIDE","type":"Home","tags":["bags","cornershop","father","home","home_objects","outdoor","storage","under50"],"price":3500,"price_min":3500,"price_max":3500,"available":true,"price_varies":false,"compare_at_price":null,"compare_at_price_min":0,"compare_at_price_max":0,"compare_at_price_varies":false,"variants":[{"id":40332071829655,"title":"Beige","option1":"Beige","option2":null,"option3":null,"sku":"EZ019-BE","requires_shipping":true,"taxable":true,"featured_image":{"id":30925198065815,"product_id":6957640450199,"position":8,"created_at":"2021-06-17T13:26:17-04:00","updated_at":"2021-06-17T13:30:54-04:00","alt":null,"width":520,"height":520,"src":"\/\/mpatmos.com\/cdn\/shop\/products\/ez020-tarp-bag-round-medium-beige_6b5abc74-f554-4b84-ac49-67495ed47956.jpg?v=1623951054","variant_ids":[40332071829655]},"available":false,"name":"Tarp Bag Round - Small 16L - Beige","public_title":"Beige","options":["Beige"],"price":3500,"weight":481,"compare_at_price":null,"inventory_quantity":0,"inventory_management":"shopify","inventory_policy":"deny","barcode":null,"featured_media":{"alt":null,"id":23269393137815,"position":8,"preview_image":{"aspect_ratio":1.0,"height":520,"width":520,"src":"\/\/mpatmos.com\/cdn\/shop\/products\/ez020-tarp-bag-round-medium-beige_6b5abc74-f554-4b84-ac49-67495ed47956.jpg?v=1623951054"}},"requires_selling_plan":false,"selling_plan_allocations":[]},{"id":40332071862423,"title":"Black","option1":"Black","option2":null,"option3":null,"sku":"EZ019-BK","requires_shipping":true,"taxable":true,"featured_image":{"id":30925198098583,"product_id":6957640450199,"position":9,"created_at":"2021-06-17T13:26:17-04:00","updated_at":"2021-06-17T13:30:54-04:00","alt":null,"width":520,"height":520,"src":"\/\/mpatmos.com\/cdn\/shop\/products\/item-ez020-m-02-dl_95826aa9-ee72-4756-9bcc-1d9def704138.jpg?v=1623951054","variant_ids":[40332071862423]},"available":false,"name":"Tarp Bag Round - Small 16L - Black","public_title":"Black","options":["Black"],"price":3500,"weight":481,"compare_at_price":null,"inventory_quantity":0,"inventory_management":"shopify","inventory_policy":"deny","barcode":null,"featured_media":{"alt":null,"id":23269393203351,"position":9,"preview_image":{"aspect_ratio":1.0,"height":520,"width":520,"src":"\/\/mpatmos.com\/cdn\/shop\/products\/item-ez020-m-02-dl_95826aa9-ee72-4756-9bcc-1d9def704138.jpg?v=1623951054"}},"requires_selling_plan":false,"selling_plan_allocations":[]},{"id":40332071895191,"title":"Blue","option1":"Blue","option2":null,"option3":null,"sku":"EZ019-BL","requires_shipping":true,"taxable":true,"featured_image":{"id":30925198164119,"product_id":6957640450199,"position":10,"created_at":"2021-06-17T13:26:17-04:00","updated_at":"2021-06-17T13:30:54-04:00","alt":null,"width":520,"height":520,"src":"\/\/mpatmos.com\/cdn\/shop\/products\/Tarp-Bag-M-item-ez020-m-10-dl_411fb754-f16d-46bc-9bb0-14346698475d.jpg?v=1623951054","variant_ids":[40332071895191]},"available":false,"name":"Tarp Bag Round - Small 16L - Blue","public_title":"Blue","options":["Blue"],"price":3500,"weight":481,"compare_at_price":null,"inventory_quantity":0,"inventory_management":"shopify","inventory_policy":"deny","barcode":null,"featured_media":{"alt":null,"id":23269393236119,"position":10,"preview_image":{"aspect_ratio":1.0,"height":520,"width":520,"src":"\/\/mpatmos.com\/cdn\/shop\/products\/Tarp-Bag-M-item-ez020-m-10-dl_411fb754-f16d-46bc-9bb0-14346698475d.jpg?v=1623951054"}},"requires_selling_plan":false,"selling_plan_allocations":[]},{"id":40332071927959,"title":"Brown","option1":"Brown","option2":null,"option3":null,"sku":"EZ019-BR","requires_shipping":true,"taxable":true,"featured_image":{"id":30925198196887,"product_id":6957640450199,"position":11,"created_at":"2021-06-17T13:26:17-04:00","updated_at":"2021-06-17T13:30:54-04:00","alt":null,"width":520,"height":520,"src":"\/\/mpatmos.com\/cdn\/shop\/products\/Tarp-Bag-M-item-ez020-m-05-dl_f2082adf-6887-4634-992d-bdd41186e0bd.jpg?v=1623951054","variant_ids":[40332071927959]},"available":false,"name":"Tarp Bag Round - Small 16L - Brown","public_title":"Brown","options":["Brown"],"price":3500,"weight":481,"compare_at_price":null,"inventory_quantity":0,"inventory_management":"shopify","inventory_policy":"deny","barcode":null,"featured_media":{"alt":null,"id":23269393268887,"position":11,"preview_image":{"aspect_ratio":1.0,"height":520,"width":520,"src":"\/\/mpatmos.com\/cdn\/shop\/products\/Tarp-Bag-M-item-ez020-m-05-dl_f2082adf-6887-4634-992d-bdd41186e0bd.jpg?v=1623951054"}},"requires_selling_plan":false,"selling_plan_allocations":[]},{"id":40332071960727,"title":"Gray","option1":"Gray","option2":null,"option3":null,"sku":"EZ019-GY","requires_shipping":true,"taxable":true,"featured_image":{"id":30925198229655,"product_id":6957640450199,"position":12,"created_at":"2021-06-17T13:26:17-04:00","updated_at":"2021-06-17T13:30:54-04:00","alt":null,"width":520,"height":520,"src":"\/\/mpatmos.com\/cdn\/shop\/products\/ez020-tarp-bag-round-medium-grey_e1bae0be-6476-4c7b-a345-a91e289698f7.jpg?v=1623951054","variant_ids":[40332071960727]},"available":false,"name":"Tarp Bag Round - Small 16L - Gray","public_title":"Gray","options":["Gray"],"price":3500,"weight":481,"compare_at_price":null,"inventory_quantity":0,"inventory_management":"shopify","inventory_policy":"deny","barcode":null,"featured_media":{"alt":null,"id":23269393301655,"position":12,"preview_image":{"aspect_ratio":1.0,"height":520,"width":520,"src":"\/\/mpatmos.com\/cdn\/shop\/products\/ez020-tarp-bag-round-medium-grey_e1bae0be-6476-4c7b-a345-a91e289698f7.jpg?v=1623951054"}},"requires_selling_plan":false,"selling_plan_allocations":[]},{"id":40332071993495,"title":"Ivory","option1":"Ivory","option2":null,"option3":null,"sku":"EZ019-IV","requires_shipping":true,"taxable":true,"featured_image":{"id":30925198327959,"product_id":6957640450199,"position":13,"created_at":"2021-06-17T13:26:17-04:00","updated_at":"2021-06-17T13:30:54-04:00","alt":null,"width":520,"height":520,"src":"\/\/mpatmos.com\/cdn\/shop\/products\/Tarp-Bag-M-item-ez020-m-04-dl_127875bb-1f47-4c73-8367-2e0d261f011a.jpg?v=1623951054","variant_ids":[40332071993495]},"available":true,"name":"Tarp Bag Round - Small 16L - Ivory","public_title":"Ivory","options":["Ivory"],"price":3500,"weight":481,"compare_at_price":null,"inventory_quantity":3,"inventory_management":"shopify","inventory_policy":"deny","barcode":null,"featured_media":{"alt":null,"id":23269393334423,"position":13,"preview_image":{"aspect_ratio":1.0,"height":520,"width":520,"src":"\/\/mpatmos.com\/cdn\/shop\/products\/Tarp-Bag-M-item-ez020-m-04-dl_127875bb-1f47-4c73-8367-2e0d261f011a.jpg?v=1623951054"}},"requires_selling_plan":false,"selling_plan_allocations":[]},{"id":40332072026263,"title":"Khaki","option1":"Khaki","option2":null,"option3":null,"sku":"EZ019-KH","requires_shipping":true,"taxable":true,"featured_image":{"id":30925198459031,"product_id":6957640450199,"position":14,"created_at":"2021-06-17T13:26:17-04:00","updated_at":"2021-06-17T13:30:54-04:00","alt":null,"width":520,"height":520,"src":"\/\/mpatmos.com\/cdn\/shop\/products\/Tarp-Bag-M-item-ez020-m-11-dl_df081b3f-7733-4661-be1f-6f387493e036.jpg?v=1623951054","variant_ids":[40332072026263]},"available":false,"name":"Tarp Bag Round - Small 16L - Khaki","public_title":"Khaki","options":["Khaki"],"price":3500,"weight":481,"compare_at_price":null,"inventory_quantity":0,"inventory_management":"shopify","inventory_policy":"deny","barcode":null,"featured_media":{"alt":null,"id":23269393432727,"position":14,"preview_image":{"aspect_ratio":1.0,"height":520,"width":520,"src":"\/\/mpatmos.com\/cdn\/shop\/products\/Tarp-Bag-M-item-ez020-m-11-dl_df081b3f-7733-4661-be1f-6f387493e036.jpg?v=1623951054"}},"requires_selling_plan":false,"selling_plan_allocations":[]},{"id":40332072059031,"title":"Light Blue","option1":"Light Blue","option2":null,"option3":null,"sku":"EZ019-LBL","requires_shipping":true,"taxable":true,"featured_image":{"id":30925198524567,"product_id":6957640450199,"position":15,"created_at":"2021-06-17T13:26:17-04:00","updated_at":"2021-06-17T13:30:54-04:00","alt":null,"width":520,"height":520,"src":"\/\/mpatmos.com\/cdn\/shop\/products\/Tarp-Bag-M-item-ez020-m-09-dl_c95d0892-409a-47ce-b460-33f5546c4dc5.jpg?v=1623951054","variant_ids":[40332072059031]},"available":false,"name":"Tarp Bag Round - Small 16L - Light Blue","public_title":"Light Blue","options":["Light Blue"],"price":3500,"weight":481,"compare_at_price":null,"inventory_quantity":0,"inventory_management":"shopify","inventory_policy":"deny","barcode":null,"featured_media":{"alt":null,"id":23269393531031,"position":15,"preview_image":{"aspect_ratio":1.0,"height":520,"width":520,"src":"\/\/mpatmos.com\/cdn\/shop\/products\/Tarp-Bag-M-item-ez020-m-09-dl_c95d0892-409a-47ce-b460-33f5546c4dc5.jpg?v=1623951054"}},"requires_selling_plan":false,"selling_plan_allocations":[]},{"id":40332072091799,"title":"Orange","option1":"Orange","option2":null,"option3":null,"sku":"EZ019-OR","requires_shipping":true,"taxable":true,"featured_image":{"id":30925198557335,"product_id":6957640450199,"position":16,"created_at":"2021-06-17T13:26:17-04:00","updated_at":"2021-06-17T13:30:54-04:00","alt":null,"width":520,"height":520,"src":"\/\/mpatmos.com\/cdn\/shop\/products\/Tarp-Bag-M-item-ez020-m-08-dl_6f38819c-6bfb-4c0b-976a-7a189329ab12.jpg?v=1623951054","variant_ids":[40332072091799]},"available":false,"name":"Tarp Bag Round - Small 16L - Orange","public_title":"Orange","options":["Orange"],"price":3500,"weight":481,"compare_at_price":null,"inventory_quantity":0,"inventory_management":"shopify","inventory_policy":"deny","barcode":null,"featured_media":{"alt":null,"id":23269393563799,"position":16,"preview_image":{"aspect_ratio":1.0,"height":520,"width":520,"src":"\/\/mpatmos.com\/cdn\/shop\/products\/Tarp-Bag-M-item-ez020-m-08-dl_6f38819c-6bfb-4c0b-976a-7a189329ab12.jpg?v=1623951054"}},"requires_selling_plan":false,"selling_plan_allocations":[]},{"id":40332072124567,"title":"Red","option1":"Red","option2":null,"option3":null,"sku":"EZ019-RE","requires_shipping":true,"taxable":true,"featured_image":{"id":30925198590103,"product_id":6957640450199,"position":17,"created_at":"2021-06-17T13:26:17-04:00","updated_at":"2021-06-17T13:30:54-04:00","alt":null,"width":520,"height":520,"src":"\/\/mpatmos.com\/cdn\/shop\/products\/Tarp-Bag-M-item-ez020-m-06-dl_79225d22-5f99-4b94-b675-6f80e3aa1478.jpg?v=1623951054","variant_ids":[40332072124567]},"available":false,"name":"Tarp Bag Round - Small 16L - Red","public_title":"Red","options":["Red"],"price":3500,"weight":481,"compare_at_price":null,"inventory_quantity":0,"inventory_management":"shopify","inventory_policy":"deny","barcode":null,"featured_media":{"alt":null,"id":23269393596567,"position":17,"preview_image":{"aspect_ratio":1.0,"height":520,"width":520,"src":"\/\/mpatmos.com\/cdn\/shop\/products\/Tarp-Bag-M-item-ez020-m-06-dl_79225d22-5f99-4b94-b675-6f80e3aa1478.jpg?v=1623951054"}},"requires_selling_plan":false,"selling_plan_allocations":[]},{"id":40332072157335,"title":"White","option1":"White","option2":null,"option3":null,"sku":"EZ019-WH","requires_shipping":true,"taxable":true,"featured_image":{"id":30925198622871,"product_id":6957640450199,"position":18,"created_at":"2021-06-17T13:26:17-04:00","updated_at":"2021-06-17T13:30:54-04:00","alt":null,"width":520,"height":520,"src":"\/\/mpatmos.com\/cdn\/shop\/products\/Tarp-Bag-M-item-ez020-m-03-dl_271126a4-8a8c-4189-97db-be44d05d3e42.jpg?v=1623951054","variant_ids":[40332072157335]},"available":true,"name":"Tarp Bag Round - Small 16L - White","public_title":"White","options":["White"],"price":3500,"weight":481,"compare_at_price":null,"inventory_quantity":1,"inventory_management":"shopify","inventory_policy":"deny","barcode":null,"featured_media":{"alt":null,"id":23269393629335,"position":18,"preview_image":{"aspect_ratio":1.0,"height":520,"width":520,"src":"\/\/mpatmos.com\/cdn\/shop\/products\/Tarp-Bag-M-item-ez020-m-03-dl_271126a4-8a8c-4189-97db-be44d05d3e42.jpg?v=1623951054"}},"requires_selling_plan":false,"selling_plan_allocations":[]},{"id":40332072190103,"title":"Yellow","option1":"Yellow","option2":null,"option3":null,"sku":"EZ019-YE","requires_shipping":true,"taxable":true,"featured_image":{"id":30925198655639,"product_id":6957640450199,"position":19,"created_at":"2021-06-17T13:26:17-04:00","updated_at":"2021-06-17T13:30:54-04:00","alt":null,"width":520,"height":520,"src":"\/\/mpatmos.com\/cdn\/shop\/products\/Tarp-Bag-M-item-ez020-m-07-dl_194be244-2c51-4b04-a2a6-50e171aa4b78.jpg?v=1623951054","variant_ids":[40332072190103]},"available":false,"name":"Tarp Bag Round - Small 16L - Yellow","public_title":"Yellow","options":["Yellow"],"price":3500,"weight":481,"compare_at_price":null,"inventory_quantity":0,"inventory_management":"shopify","inventory_policy":"deny","barcode":null,"featured_media":{"alt":null,"id":23269393662103,"position":19,"preview_image":{"aspect_ratio":1.0,"height":520,"width":520,"src":"\/\/mpatmos.com\/cdn\/shop\/products\/Tarp-Bag-M-item-ez020-m-07-dl_194be244-2c51-4b04-a2a6-50e171aa4b78.jpg?v=1623951054"}},"requires_selling_plan":false,"selling_plan_allocations":[]}],"images":["\/\/mpatmos.com\/cdn\/shop\/products\/item-ez019-s-01-dl_1080x_734f4e27-d1cc-4840-b2e1-fe21e612b4ca.jpg?v=1623951054","\/\/mpatmos.com\/cdn\/shop\/products\/pic_s_1080x_cf6e9572-ffcb-4cb4-8451-a6576ec950bb.jpg?v=1623951054","\/\/mpatmos.com\/cdn\/shop\/products\/item-ez020-s-04-dl_a46b9973-875d-49aa-949b-ba3ca17ff30f.jpg?v=1667411213","\/\/mpatmos.com\/cdn\/shop\/products\/item-ez020-s-07-dl_15e469e5-e90e-412c-81e6-ab86f9a71c94.jpg?v=1667406386","\/\/mpatmos.com\/cdn\/shop\/products\/item-ez020-s-09-dl_0755516d-c97f-44b3-8294-f3bb4460aab7.jpg?v=1623951054","\/\/mpatmos.com\/cdn\/shop\/products\/ez018-05_899e57fc-6f98-4985-a41b-fe9d44260ae1.jpg?v=1667413313","\/\/mpatmos.com\/cdn\/shop\/products\/ez018-02_295c6412-5b43-4f49-8333-94e088075148.jpg?v=1667414944","\/\/mpatmos.com\/cdn\/shop\/products\/ez020-tarp-bag-round-medium-beige_6b5abc74-f554-4b84-ac49-67495ed47956.jpg?v=1623951054","\/\/mpatmos.com\/cdn\/shop\/products\/item-ez020-m-02-dl_95826aa9-ee72-4756-9bcc-1d9def704138.jpg?v=1623951054","\/\/mpatmos.com\/cdn\/shop\/products\/Tarp-Bag-M-item-ez020-m-10-dl_411fb754-f16d-46bc-9bb0-14346698475d.jpg?v=1623951054","\/\/mpatmos.com\/cdn\/shop\/products\/Tarp-Bag-M-item-ez020-m-05-dl_f2082adf-6887-4634-992d-bdd41186e0bd.jpg?v=1623951054","\/\/mpatmos.com\/cdn\/shop\/products\/ez020-tarp-bag-round-medium-grey_e1bae0be-6476-4c7b-a345-a91e289698f7.jpg?v=1623951054","\/\/mpatmos.com\/cdn\/shop\/products\/Tarp-Bag-M-item-ez020-m-04-dl_127875bb-1f47-4c73-8367-2e0d261f011a.jpg?v=1623951054","\/\/mpatmos.com\/cdn\/shop\/products\/Tarp-Bag-M-item-ez020-m-11-dl_df081b3f-7733-4661-be1f-6f387493e036.jpg?v=1623951054","\/\/mpatmos.com\/cdn\/shop\/products\/Tarp-Bag-M-item-ez020-m-09-dl_c95d0892-409a-47ce-b460-33f5546c4dc5.jpg?v=1623951054","\/\/mpatmos.com\/cdn\/shop\/products\/Tarp-Bag-M-item-ez020-m-08-dl_6f38819c-6bfb-4c0b-976a-7a189329ab12.jpg?v=1623951054","\/\/mpatmos.com\/cdn\/shop\/products\/Tarp-Bag-M-item-ez020-m-06-dl_79225d22-5f99-4b94-b675-6f80e3aa1478.jpg?v=1623951054","\/\/mpatmos.com\/cdn\/shop\/products\/Tarp-Bag-M-item-ez020-m-03-dl_271126a4-8a8c-4189-97db-be44d05d3e42.jpg?v=1623951054","\/\/mpatmos.com\/cdn\/shop\/products\/Tarp-Bag-M-item-ez020-m-07-dl_194be244-2c51-4b04-a2a6-50e171aa4b78.jpg?v=1623951054"],"featured_image":"\/\/mpatmos.com\/cdn\/shop\/products\/item-ez019-s-01-dl_1080x_734f4e27-d1cc-4840-b2e1-fe21e612b4ca.jpg?v=1623951054","options":["Color"],"media":[{"alt":null,"id":23269440848023,"position":1,"preview_image":{"aspect_ratio":0.667,"height":1080,"width":720,"src":"\/\/mpatmos.com\/cdn\/shop\/products\/item-ez019-s-01-dl_1080x_734f4e27-d1cc-4840-b2e1-fe21e612b4ca.jpg?v=1623951054"},"aspect_ratio":0.667,"height":1080,"media_type":"image","src":"\/\/mpatmos.com\/cdn\/shop\/products\/item-ez019-s-01-dl_1080x_734f4e27-d1cc-4840-b2e1-fe21e612b4ca.jpg?v=1623951054","width":720},{"alt":null,"id":23269440880791,"position":2,"preview_image":{"aspect_ratio":0.667,"height":1080,"width":720,"src":"\/\/mpatmos.com\/cdn\/shop\/products\/pic_s_1080x_cf6e9572-ffcb-4cb4-8451-a6576ec950bb.jpg?v=1623951054"},"aspect_ratio":0.667,"height":1080,"media_type":"image","src":"\/\/mpatmos.com\/cdn\/shop\/products\/pic_s_1080x_cf6e9572-ffcb-4cb4-8451-a6576ec950bb.jpg?v=1623951054","width":720},{"alt":null,"id":23269392744599,"position":3,"preview_image":{"aspect_ratio":1.0,"height":520,"width":520,"src":"\/\/mpatmos.com\/cdn\/shop\/products\/item-ez020-s-04-dl_a46b9973-875d-49aa-949b-ba3ca17ff30f.jpg?v=1667411213"},"aspect_ratio":1.0,"height":520,"media_type":"image","src":"\/\/mpatmos.com\/cdn\/shop\/products\/item-ez020-s-04-dl_a46b9973-875d-49aa-949b-ba3ca17ff30f.jpg?v=1667411213","width":520},{"alt":null,"id":23269392875671,"position":4,"preview_image":{"aspect_ratio":1.0,"height":520,"width":520,"src":"\/\/mpatmos.com\/cdn\/shop\/products\/item-ez020-s-07-dl_15e469e5-e90e-412c-81e6-ab86f9a71c94.jpg?v=1667406386"},"aspect_ratio":1.0,"height":520,"media_type":"image","src":"\/\/mpatmos.com\/cdn\/shop\/products\/item-ez020-s-07-dl_15e469e5-e90e-412c-81e6-ab86f9a71c94.jpg?v=1667406386","width":520},{"alt":null,"id":23269392973975,"position":5,"preview_image":{"aspect_ratio":1.0,"height":520,"width":520,"src":"\/\/mpatmos.com\/cdn\/shop\/products\/item-ez020-s-09-dl_0755516d-c97f-44b3-8294-f3bb4460aab7.jpg?v=1623951054"},"aspect_ratio":1.0,"height":520,"media_type":"image","src":"\/\/mpatmos.com\/cdn\/shop\/products\/item-ez020-s-09-dl_0755516d-c97f-44b3-8294-f3bb4460aab7.jpg?v=1623951054","width":520},{"alt":null,"id":23269393006743,"position":6,"preview_image":{"aspect_ratio":1.0,"height":600,"width":600,"src":"\/\/mpatmos.com\/cdn\/shop\/products\/ez018-05_899e57fc-6f98-4985-a41b-fe9d44260ae1.jpg?v=1667413313"},"aspect_ratio":1.0,"height":600,"media_type":"image","src":"\/\/mpatmos.com\/cdn\/shop\/products\/ez018-05_899e57fc-6f98-4985-a41b-fe9d44260ae1.jpg?v=1667413313","width":600},{"alt":null,"id":23269393072279,"position":7,"preview_image":{"aspect_ratio":1.0,"height":760,"width":760,"src":"\/\/mpatmos.com\/cdn\/shop\/products\/ez018-02_295c6412-5b43-4f49-8333-94e088075148.jpg?v=1667414944"},"aspect_ratio":1.0,"height":760,"media_type":"image","src":"\/\/mpatmos.com\/cdn\/shop\/products\/ez018-02_295c6412-5b43-4f49-8333-94e088075148.jpg?v=1667414944","width":760},{"alt":null,"id":23269393137815,"position":8,"preview_image":{"aspect_ratio":1.0,"height":520,"width":520,"src":"\/\/mpatmos.com\/cdn\/shop\/products\/ez020-tarp-bag-round-medium-beige_6b5abc74-f554-4b84-ac49-67495ed47956.jpg?v=1623951054"},"aspect_ratio":1.0,"height":520,"media_type":"image","src":"\/\/mpatmos.com\/cdn\/shop\/products\/ez020-tarp-bag-round-medium-beige_6b5abc74-f554-4b84-ac49-67495ed47956.jpg?v=1623951054","width":520},{"alt":null,"id":23269393203351,"position":9,"preview_image":{"aspect_ratio":1.0,"height":520,"width":520,"src":"\/\/mpatmos.com\/cdn\/shop\/products\/item-ez020-m-02-dl_95826aa9-ee72-4756-9bcc-1d9def704138.jpg?v=1623951054"},"aspect_ratio":1.0,"height":520,"media_type":"image","src":"\/\/mpatmos.com\/cdn\/shop\/products\/item-ez020-m-02-dl_95826aa9-ee72-4756-9bcc-1d9def704138.jpg?v=1623951054","width":520},{"alt":null,"id":23269393236119,"position":10,"preview_image":{"aspect_ratio":1.0,"height":520,"width":520,"src":"\/\/mpatmos.com\/cdn\/shop\/products\/Tarp-Bag-M-item-ez020-m-10-dl_411fb754-f16d-46bc-9bb0-14346698475d.jpg?v=1623951054"},"aspect_ratio":1.0,"height":520,"media_type":"image","src":"\/\/mpatmos.com\/cdn\/shop\/products\/Tarp-Bag-M-item-ez020-m-10-dl_411fb754-f16d-46bc-9bb0-14346698475d.jpg?v=1623951054","width":520},{"alt":null,"id":23269393268887,"position":11,"preview_image":{"aspect_ratio":1.0,"height":520,"width":520,"src":"\/\/mpatmos.com\/cdn\/shop\/products\/Tarp-Bag-M-item-ez020-m-05-dl_f2082adf-6887-4634-992d-bdd41186e0bd.jpg?v=1623951054"},"aspect_ratio":1.0,"height":520,"media_type":"image","src":"\/\/mpatmos.com\/cdn\/shop\/products\/Tarp-Bag-M-item-ez020-m-05-dl_f2082adf-6887-4634-992d-bdd41186e0bd.jpg?v=1623951054","width":520},{"alt":null,"id":23269393301655,"position":12,"preview_image":{"aspect_ratio":1.0,"height":520,"width":520,"src":"\/\/mpatmos.com\/cdn\/shop\/products\/ez020-tarp-bag-round-medium-grey_e1bae0be-6476-4c7b-a345-a91e289698f7.jpg?v=1623951054"},"aspect_ratio":1.0,"height":520,"media_type":"image","src":"\/\/mpatmos.com\/cdn\/shop\/products\/ez020-tarp-bag-round-medium-grey_e1bae0be-6476-4c7b-a345-a91e289698f7.jpg?v=1623951054","width":520},{"alt":null,"id":23269393334423,"position":13,"preview_image":{"aspect_ratio":1.0,"height":520,"width":520,"src":"\/\/mpatmos.com\/cdn\/shop\/products\/Tarp-Bag-M-item-ez020-m-04-dl_127875bb-1f47-4c73-8367-2e0d261f011a.jpg?v=1623951054"},"aspect_ratio":1.0,"height":520,"media_type":"image","src":"\/\/mpatmos.com\/cdn\/shop\/products\/Tarp-Bag-M-item-ez020-m-04-dl_127875bb-1f47-4c73-8367-2e0d261f011a.jpg?v=1623951054","width":520},{"alt":null,"id":23269393432727,"position":14,"preview_image":{"aspect_ratio":1.0,"height":520,"width":520,"src":"\/\/mpatmos.com\/cdn\/shop\/products\/Tarp-Bag-M-item-ez020-m-11-dl_df081b3f-7733-4661-be1f-6f387493e036.jpg?v=1623951054"},"aspect_ratio":1.0,"height":520,"media_type":"image","src":"\/\/mpatmos.com\/cdn\/shop\/products\/Tarp-Bag-M-item-ez020-m-11-dl_df081b3f-7733-4661-be1f-6f387493e036.jpg?v=1623951054","width":520},{"alt":null,"id":23269393531031,"position":15,"preview_image":{"aspect_ratio":1.0,"height":520,"width":520,"src":"\/\/mpatmos.com\/cdn\/shop\/products\/Tarp-Bag-M-item-ez020-m-09-dl_c95d0892-409a-47ce-b460-33f5546c4dc5.jpg?v=1623951054"},"aspect_ratio":1.0,"height":520,"media_type":"image","src":"\/\/mpatmos.com\/cdn\/shop\/products\/Tarp-Bag-M-item-ez020-m-09-dl_c95d0892-409a-47ce-b460-33f5546c4dc5.jpg?v=1623951054","width":520},{"alt":null,"id":23269393563799,"position":16,"preview_image":{"aspect_ratio":1.0,"height":520,"width":520,"src":"\/\/mpatmos.com\/cdn\/shop\/products\/Tarp-Bag-M-item-ez020-m-08-dl_6f38819c-6bfb-4c0b-976a-7a189329ab12.jpg?v=1623951054"},"aspect_ratio":1.0,"height":520,"media_type":"image","src":"\/\/mpatmos.com\/cdn\/shop\/products\/Tarp-Bag-M-item-ez020-m-08-dl_6f38819c-6bfb-4c0b-976a-7a189329ab12.jpg?v=1623951054","width":520},{"alt":null,"id":23269393596567,"position":17,"preview_image":{"aspect_ratio":1.0,"height":520,"width":520,"src":"\/\/mpatmos.com\/cdn\/shop\/products\/Tarp-Bag-M-item-ez020-m-06-dl_79225d22-5f99-4b94-b675-6f80e3aa1478.jpg?v=1623951054"},"aspect_ratio":1.0,"height":520,"media_type":"image","src":"\/\/mpatmos.com\/cdn\/shop\/products\/Tarp-Bag-M-item-ez020-m-06-dl_79225d22-5f99-4b94-b675-6f80e3aa1478.jpg?v=1623951054","width":520},{"alt":null,"id":23269393629335,"position":18,"preview_image":{"aspect_ratio":1.0,"height":520,"width":520,"src":"\/\/mpatmos.com\/cdn\/shop\/products\/Tarp-Bag-M-item-ez020-m-03-dl_271126a4-8a8c-4189-97db-be44d05d3e42.jpg?v=1623951054"},"aspect_ratio":1.0,"height":520,"media_type":"image","src":"\/\/mpatmos.com\/cdn\/shop\/products\/Tarp-Bag-M-item-ez020-m-03-dl_271126a4-8a8c-4189-97db-be44d05d3e42.jpg?v=1623951054","width":520},{"alt":null,"id":23269393662103,"position":19,"preview_image":{"aspect_ratio":1.0,"height":520,"width":520,"src":"\/\/mpatmos.com\/cdn\/shop\/products\/Tarp-Bag-M-item-ez020-m-07-dl_194be244-2c51-4b04-a2a6-50e171aa4b78.jpg?v=1623951054"},"aspect_ratio":1.0,"height":520,"media_type":"image","src":"\/\/mpatmos.com\/cdn\/shop\/products\/Tarp-Bag-M-item-ez020-m-07-dl_194be244-2c51-4b04-a2a6-50e171aa4b78.jpg?v=1623951054","width":520}],"requires_selling_plan":false,"selling_plan_groups":[],"content":"\u003cmeta charset=\"utf-8\"\u003e\n\u003cp\u003e\u003cspan\u003eA heavy duty water-resistant round bag made of PVC tarpaulin by Hightide. \u003c\/span\u003e\u003c\/p\u003e\n\u003cp\u003e\u003cspan\u003eDimension: (Φ)11.0\" x (H)14.0\"\u003cbr\u003eCapacity: 4.2 gallons (16L)\u003c\/span\u003e\u003c\/p\u003e"}